Portland Trail Blazers guard Brandon Roy is playing on two post-surgical knees. What's next for his game? Posted by Ben Golliver.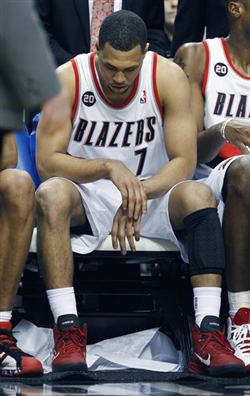 We've been following the progress of Portland Trail Blazers guard Brandon Roy with interest this past week, as he first admitted that he was
being forced to adjust his offensive game due to slippage in his athleticism
and then work came down that he was dealing with knee issues again,
getting his left knee drained multiple times this season.
Roy has yet to miss a game this season, but he has called for reduced playing time to ease the stress and reduce the sweeling he's experiencing on his left knee.
The Oregonian reports
that there's no other solid option and that the problems are here to stay for Roy, who is just 26 years old.
There's no meniscus left to operate on in Roy's left knee.
"Nah. None. Not in my right, either," Roy said Friday.
The reason Roy's knee has been swelling up regularly, to the point where it has already been drained twice by Blazers' doctor Don Roberts this season, is because there is no cartilage to absorb the pounding associated with running and jumping.
"The problem is bone-on-bone there," Roy said. "Dr. Roberts calls it 'arthritic knee.' It's just something I'm going to have to deal with for the rest of my career."
Concerns have existed about Roy's knees dating back to college and Roy has had multiple operations on his knees during his NBA career already, so this comes as no surprise. Indeed, Portland fans are breathing a sigh of relief because the other major option on the table, besides the current plan of limiting his minutes and providing extra treatment, was the dreaded microfracture surgery. That Roy has been given the green light to continue to play this season without needing microfracture surgery essentially saves Portland's season. Without Roy, the deep and talented Blazers are likely still a playoff team, but they would be lacking a much-needed No. 1 scorer in the postseason and the loss of their star player and face of the franchise would have been a huge kick in the gut to the organization and its fanbase, which has already dealt with years of injuries from center
Greg Oden
. What will the Blazers and Roy look like now that the decision has been made for him to continue to play? It's still too early to say definitively, but there have some clues. Keep in mind Roy is in the first year of a 5-year, $80+ million contract extension, so both he and the Blazers have a vested interest in the long haul rather than the short term. First, Roy is no longer playing long stretches in the first half of games, instead being subbed out at the six minute mark of the first quarter so that coach Nate McMillan can get into his backcourt depth earlier in the game, saving Roy for the fourth quarter, where he has made his reputation as a big shot maker. Second, Roy is seeing less touches in isolation and is looking for his jump shot rather than to attack the basket more than he has in the past. When he has gone to the rim, he appears to be looking to avoid the big hit. As such, his overall field goal percentage is down from 47.3% to 42.0% and his free throw attempts have dropped from 6.8 last year to 5.7 this year. These drops may not seem huge, but they are magnified given the slow pace that Portland plays and the team's emphasis on offensive efficiency. Third, Roy's game this year hasn't been as multi-dimensional in the past. His rebounding and assist numbers are down and that affects the quality of looks both he and his teammates receive. Roy often racked up assists when teams would hard-double him. That's not happening any more, leaving his fellow perimeter players with less wide open jump shot attempts. So when Roy says he has to adjust his game, these are the issues he is dealing with. As one of the league's most intelligent players, Roy is already looking ahead to changes he can make, which include receiving the ball in the post to set up a variety of turnaround jump shots from closer in, using more up-fakes in isolation to get his man in the air to earn trips to the foul line without drawing hard contact, and participating more in some of Portland's newer offensive sets, which rely less on Roy driving hard in isolation and more on inside-out passing and perimeter movement to find open shots. Even with two bad knees, Roy would remain one of the league's premier jump shooters and trick shot artists given his exceptional shooting form and release. That will become the bread-and-butter of his offensive game, both in the short-term and in years to come. While that's disappointing and frustrating for Portland fans, it's not necessarily a death sentence for Portland's chances to win an NBA title. It does, however, put more pressure on Portland's big men, particularly Greg Oden and
LaMarcus Aldridge
, to develop into complementary and consistent offensive weapons, particularly on the low block. Aldridge has been a reliable force early this season, but Oden remains a total unknown, with no injury timetable set more than 11 months after his latest knee surgery. At the end of last season, Roy told me that the Blazers needed to "cross [our] fingers" regarding Oden's return to the court. With Roy's latest news, Portland fans are slowly running out of fingers to cross. That endless superstitious hoping and waiting won't be alleviated until both Roy and Oden are back on the court, together.