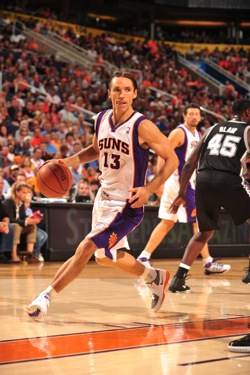 Posted by Royce Young
I'm sure as soon as the words "trading block" and "Steve Nash" popped up in the same sentence anywhere, Mike D'Antoni probably sprained his back jumping up so quickly to run to Donnie Walsh's office.
And that's the word
according to the New York Daily News.
The
Knicks
will inquire about Nash's potential availibility, performing what the report called, "due diligence."
The interesting part is, there really hasn't been an actual rumor saying
Steve Nash
is actually available or even potentially available.
All this really came from was ESPN's Ric Bucher
who was just talking about big name players he could see being traded before the deadline.
Now of course that doesn't mean Nash hasn't been part of trade discussions for the
Suns
. Right now, they're 4-4 and possibly headed for an average season. Nash is 36 and won't be available to the Suns for their future plans.
D'Antoni wouldn't comment on the possibility of rejoining Nash. But the thought is certainly interesting. Not only did the two have some of their best success together, the fact that
Amar'e Stoudemire
is already there also kind of makes the situation intriguing.
But of course it's a little doubtful that Nash would want to go to New York, a place that might not be in a position to contend, something Nash obviously is looking for.
This whole Nash thing is kind of picking up a weird amount of steam when there might not be anything there. It makes sense for Phoenix to shop Nash if things go south this season, but the rumors are nothing more than that at this moment.
And the Knicks are just making an inquiry. The way I imagine this going is Donnie Walsh picking up the phone and calling Suns GM Lance Blanks and saying, "Hey, is Steve Nash available?" and Blanks saying, "No." Then Walsh saying, "Well, is there anything we can do to make him available?" and Blanks saying, "Hold on. (Looking over the Knicks roster.) Probably still no."
Really, it's not news, even though I'm writing about it like it is. I would assume a lot of inquired are made for a lot of players. General managers call other general managers and see who's available and who's not. I think it would be bigger news if the Knicks
weren't
going to inquire about Nash.