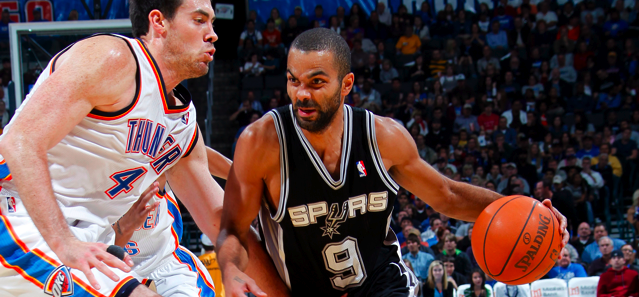 Posted by Royce Young
We're not there yet, but pretty soon, we'll be at the point in the season where we can quit saying, "Hey, it's still early." Pretty soon, the early season trends we've seen will no longer be potential anomalies, but actual cold hard facts in figuring out who's good and who's not.
But it's still early. We're not there yet. Though we're not far off. And part of getting there is taking in the information we've got. So here are five things to have been learned from the last week in the NBA.

Remember the Spurs?
You probably aren't thinking about them. You're thinking about the
Hornets
who impressively moved to 8-0 over the weekend. You're thinking about the
Lakers
who despite losing two straight, look really, really good. You're thinking about if anyone can hang with a healthy
Celtics
squad. You're thinking about what's going on with the
Heat
.
But you probably aren't thinking about the San Antonio Spurs.
If you had to guess, what do you think their record is? Don't look. If I hadn't just watched them play Sunday night, I would've probably said 6-3. Maybe 7-2. Nope, the Spurs are 8-1 with only a loss to the undefeated Hornets. And they are winners of seven straight.
Every year without fail, we all try and write them off. We try and say, "Nah, this is when they get too old." But every year, again without fail, the Spurs are right there.
They are off to their best start since their last championship season in 2007-08 and have a roster that's completely clicking.
Richard Jefferson
is providing the extra scoring punch needed.
Tony Parker
is totally healthy and looking like his old self.
Tim Duncan
is settling in to a role that suits his older self perfectly. And the bench has guys like
Matt Bonner
(7-7 from 3 against Oklahoma City Sunday),
Gary Neal
and
George Hill
that can make an impact any given night.
It's just another boring old Spurs team again this season. And that's what makes them so dangerous.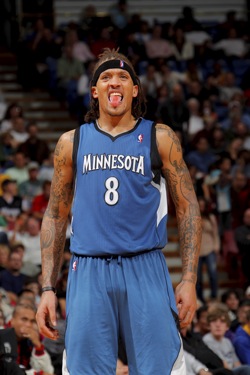 It's time to talk about Michael Beasley.
Before the season started, most agreed that Beasley getting away from South Beach and moving north was probably a good thing. And then David Kahn said Beasley stopped smoking pot, so of course there we all are expecting big things from him.
But he started slow. He was playing like his former inconsistent Heat self putting up 21 one night and six the next. So naturally, we all immediately forgot about Beasley and moved back to complaining about
Kevin Love
's playing time.
Except look at Beasley's last week. 42, 35 and 25, bumping his season average to 20.5 a game. He's scored at least 15 points in six straight games, is shooting nearly 50 percent from the field, 42 percent from 3 and is getting to the line a decent amount.
What we're seeing right now is what we heard would happen all summer. Beasley
can
be a team's top option. Albeit, maybe a top option on a bad team, but a top option nonetheless.
He's a dynamic player that can balance the small and power forward positions extremely well, going inside and out. He's far more athletic than he appears and truly has a mature NBA game. It's always been the stuff upstairs that has held him back, but as of now, he looks to be figuring it all out.
Is this something we'll see all season? Hard to say. But today, Nov. 15, 2010, Michael Beasley is looking like a legitimately good NBA scorer.
The Heat are far from invincible.
I think the rest of the league may send gift baskets to Boston. In two games, not only have they shown the blueprint for beating Miami, but they've executed it so perfectly that it's almost hard for teams to not try and replicate.
Basically, it's simple: turn them into a halfcourt team and move the ball offensively, making them work every possession. Eventually, your shots will come and the Heat will start taking bad ones, sinking into a one-on-one style game.
Again, too early to really draw any huge conclusions. We're watching a team that's a favorite to win the East, but is facing an unprecedented situation. It's almost an
entirely
new roster. No sport works as much off chemistry and knowing the guy next to you and his tendencies than basketball. And the Heat are essentially learning entirely on the fly.
Against the bad teams, they've overwhelmed them with speed, talent, size and everything else. They've absolutely suffocated teams and overpowered them. They've looked like an unstoppable force. But against teams with a scheme, a plan and some equal talent, the Heat have looked confused, befuddled and overmatched. All symptoms of a group getting by on talent alone and playing out of sync.
But give it two more weeks. If a consistent style of play isn't there and a real idea behind what they're trying to accomplish, that big red panic button might be getting a dusting off.
Good thing nobody panicked in Utah.
It was just a few weeks ago, I sat here writing something about the
Jazz
's 0-2 start and how nobody should worry, but in the kind of tone that sort of suggested maybe you should worry.
Well, don't worry. The Jazz are good. Really good.
Yeah, they keep digging themselves in weird holes early. But the way in which they're digging out makes them look even that more impressive. They are one of those teams that really looks like it ha a switch to flip on and boom, they're playing well.
Utah basically demolished the entire upper scale of the Eastern Conference in one wave of the hand, beating Orlando, Miami, Atlanta and Charlotte all on the road in a week's time. If that doesn't impress you, well, you're probably a Laker fan.

But it was so bright just a week ago.
The
Knicks
were at 3-2 with a slate of very winnable games directly ahead of them. Thinking of a 6-4 start definitely wasn't out of the question, and really, fantasizing past that wasn't too much of a stretch. Philly, Milwaukee, Golden State, Minnesota and Houston were waiting and the Knicks felt good about a decent start to the 2010-11 campaign.
Except they lost all five. And then there was that whole Kevin Love 31 rebounds thing.
It was definitely premature to think the Knicks were to turn everything around this quickly.
Amar'e Stoudemire
was a big addition, but he hasn't been playing great and in order for the Knicks to be anything, Stoudemire needs to be excellent.
New York's offense is predicated on making shots and in order to make them, they need open ones. Mike D'Antoni had a point guard that was terrific at creating those in Phoenix, but
Raymond Felton
doesn't quite have that same knack.
It's too early on to write the Knicks off yet because the back end of the East appears to be wide open in the seventh and eight spots, but with a four-game road trip ahead, those illusions of a 6-4 start may quickly be the reality of a 3-11 one.