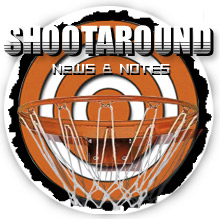 Posted by Royce Young
Mark Cuban went on Dallas radio and of course said fun things about the Heat's slow start: "Hallelujah, boys, is that great or what? … How cool is that? Now, they could still turn it around and win out for all that matters, but you're starting to see some of the problems. Any team with a strong, big guy that can score, they're getting abused by. Paul Millsap goes out and pulls a Tracy McGrady. What, Tracy McGrady scored 13 and 30 and Paul Millsap scores 11 in 29 seconds or something like that? They just don't have size to battle. They have the fewest points in the paint of any team and that's tough. … My buddy Dan Gilbert is smiling all the way, too. Again, it's early in the season and you never quite know how it's going to play out, but how glorious."
Darnell Mayberry of The Oklahoman: "So much has been so bad for the Oklahoma City Thunder that the last thing this team needed Monday night was a tough start. But the Thunder found itself in a nightmarish start when Utah point guard Deron Williams promptly splashed his first three 3-point attempts through the net, opening a nine-point lead less than three minutes into the game. And with the way OKC has underachieved all season defensively and sputtered at times offensively, there was little to suggest the Thunder could dig itself out of a hole in one of the NBA's toughest buildings. After securing a hard-fought 115-108 victory over the Jazz, however, the Thunder showed there is at least one characteristic from last year's lovable 50-win team that has indeed spilled over into this season of inconsistency. Pride."
Lisa Dillman of the Los Angeles Times: "The University of Clippers suffered a major blow to their NCAA chances on Monday night. (Well, there always is strength of schedule.) Kidding aside, when you present a starting lineup consisting of five players all still possessing NCAA eligibility, it's always going to hold an element of peril and high risk. The Clippers' starters were two 20-year-olds (Eric Bledsoe and Al-Farouq Aminu) two 21-year-olds (Blake Griffin and Eric Gordon) and one 'veteran,' 22-year-old DeAndre Jordan. So this team might look terrific in March in the NCAA tournament, but this is, for better or worse, the NBA in the opening month.
Tayshaun Prince and John Kuester went after each other last night. Vincent Goodwill of The Detroit News writes: "On the way to the bench, Kuester and Prince had words. Then Prince slammed his towel down, yelling at Kuester and walked away from the huddle. Kuester responded in kind, and had to be restrained by assistant coach Darrell Walker. Kuester and Prince continued jawing throughout the stoppage in play. After the timeout, Kuester attempted to walk over to Prince and continue their discussion, but Walker stepped in again."