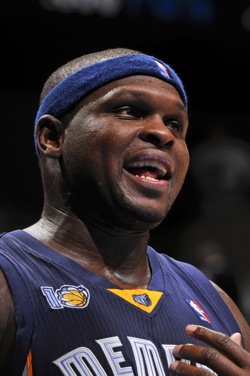 Posted by Royce Young
Over the summer, it seemed like the
Grizzlies
and
Zach Randolph
were going to play it cool with the extension talk. Randolph said he understood the situation and is just focused on playing. You know, saying the right things.
Well now, he'd very much like his money.
In an interview with FanHouse
he talked about an extension and he didn't hold back on his wishes.
"I want to do it now," he told FanHouse Monday before his Grizzlies lost to the Magic, 89-72, in Orlando. "Sooner the better. If we don't do it now, there are a lot of other teams out there who like me…."

"I'd like to get it out of the way, but they (his agent and the Grizzlies) aren't really talking right now, at least not that I know of," he said. "And that's disappointing. I like playing for this team. I want to stay with this team. I'm a blue-collar player in a blue-collar town, and it's a good fit. I'm in my prime, and we all know it's a business, too."
Things are complicated right now for Memphis in money terms. The Grizzlies just paid
Mike Conley
a lot of cash and signed
Rudy Gay
in the offseason.
O.J. Mayo
and
Marc Gasol
are eligible to be extended soon as well and if Randolph gets paid, somebody has to go.
It's not likely that this will be a clean, simple negotiation. Randolph is making over $17 million this season and has put up some of the best numbers of his career last season at 20.8 ppg and 11.7 rpg. He down to 16 ppg and 10.9 rpg this season so far, but it's early and he's playing a little less.
The FanHouse story said the Grizzlies are looking at something like three years and $40 million, but that's still a hefty price tag for a team that has a number of players to pay. At the same time though, a lot of the Grizzlies' current success is directly tied to Z-Bo's contributions. He's playing well on the court, and off it. He's keeping his head togethr and functioning extremely well within the Memphis system.
The CBA has a lot of players asking for extension as there's a lot of uncertainty with what will happen. Randolph is right. Someone will pay him. But I'm not sure it'll be for what he really wants.