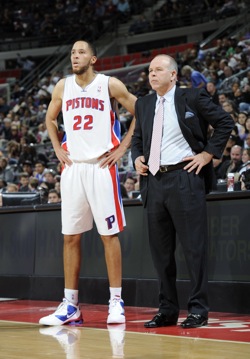 Posted by Royce Young
This got a quick
mention in today's Shootaround,
but any time a coach and player spar publicly on the bench, it deserves a bit more attention.
Monday night in Golden State,
Tayshaun Prince
and
Pistons
coach John Kuester had a discussion on the bench. Well, discussion probably isn't the right word. They had a verbal fight that included throwing things.

From the Detroit News:
On the way to the bench, Kuester and Prince had words. Then Prince slammed his towel down, yelling at Kuester and walked away from the huddle. Kuester responded in kind, and had to be restrained by assistant coach Darrell Walker. Kuester and Prince continued jawing throughout the stoppage in play. After the timeout, Kuester attempted to walk over to Prince and continue their discussion, but Walker stepped in again.

"This game is emotional," Kuester said. "This game is played with passion. That's what we needed at this stage of the game, that passion. And I thought he responded in the second half."

Prince did start the second half and took some of the blame for the argument.

"You can call me the bad guy, because I've said something to Flip (Saunders), Larry (Brown) and all my other coaches," Prince said. "It's part of the game. When you're getting beat by 30 early, strange things happen. I hope it don't happen again. I can't say it won't. I'm the type of guy where if I see something ain't right, I'm gonna say something."
How did it all start? Kuester yanked Prince in the second quarter (the Pistons were down 30) because he felt like Prince didn't work hard enough to get through a screen that allowed an open Reggie Williams 3. So Kuester told Prince what he thought and then Prince told Kuester what he thought. Eventually, Kuester waved at security to remove Prince off the bench and Kuester had to be restrained by an assistant.
So yeah, it was pretty bad.
They tried to downplay the blow-up, but the fact is, it happened. Stuff is going on in Detroit right now.
Rodney Stuckey
had to be benched earlier in the year because he ignored Kuester's orders. Other players like
Ben Gordon
and
Austin Daye
have made comments to the media questioing coaching decisions.
Prince started the second half against the
Warriors
and played relatively well, but wasn't on the floor when the Pistons closed in on the big lead and actually had a chance to win late. But the damage has been done.
Ben Golliver already wrote
about if NBA dysfunction had a name, it would be the Detroit Pistons. And we're seeing it happen live and in action. So Monday's outburst really isn't a big surprise. And it might not be the last.