The Miami Heat have informed a Cleveland-based writer that he is no longer welcome to cover the team on a media credential. Posted by Ben Golliver.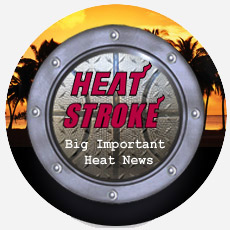 Scott Raab is a writer for Esquire magazine who has been covering the Miami Heat and, specifically,
LeBron James
' decision to leave the Cleveland
Cavaliers
to join the Heat this past summer. Raab
writes on Esquire.com
that he has received an email from the Heat's head of media relations stating that he is "no longer welcome" at Miami's American Airlines Arena and that he "will not be credentialed" for Heat games.
Raab believes the measure has been taken in response to
a post he wrote on Monday
, in which he used some naughty language to describe James. Raab is in the process of writing a book about James' decision to leave the Cavaliers and, earlier this summer, he chronicled the run-up to the free agency period in
a series of posts for Deadspin.com
. In an obsessive twist to the story, Raab says he plans to test the language of the email -- the part about how he's no longer welcome in American Airlines Arena -- by purchasing tickets as a fan to two games later this week.
The Heat play Wednesday and Friday; I plan to attend both games as a civilian with a ticket in hand — God knows there are plenty of tickets to be had — and it's probably too late to buy a LeBron James mask. If I'm lucky, I might be the first fan in NBA history to be tossed out of an arena for writing.
Raab is not the first writer to go on a martyr mission, and he won't be the last. If this was a story about any other player or any other franchise, the general response would be to roll our eyes and dismiss Raab as a guy who has gone a step and a half too far. But this is LeBron and this is the Heat, so forget all that. Instead, we'll collectively root for Raab to create the biggest spectacle possible, hopefully getting himself forcibly removed from American Airlines Arena by security and/or LeBron James himself. You go! Stick it to them! Prove your point, Mr. Raab! (Whatever that might be.) As for the Heat, it's just one more crack in the thin-skinned armor. The organization needs to come to grips with the fact that they'll be fighting a losing battle with the media until the LeBron James /
Dwyane Wade
/
Chris Bosh
group wins an NBA championship. Antagonizing, blaming or banning reporters is only going to make that battle bloodier. Write your history by winning on the court, not by excluding independent voices from the locker room.
Hat tip: The Basketball Jones
.