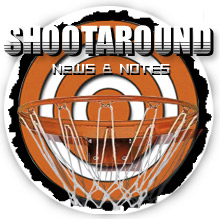 Posted by Royce Young
With Theo Ratliff out 4-6 weeks and Andrew Bynum on the shelf still, the Lakers might be in the market for a short-term backup: "We have to have some support there interim until Andrew comes back," Coach Phil Jackson said Tuesday. The Lakers will talk to the representative for free-agent

Erick Dampier

, though it might not be a good match for either side. Dampier will want more than a short-term contract, and the Lakers are looking for a little more mobility in the post."
Wilson Chandler wants to stay with the Knicks: "I'd love to be here," Chandler told FanHouse . "Just the city and just being close to the people in the organization. I just love being here. ... I think the future looks great (for the Knicks)."
Alan Hahn of Newsday: "Carmelo Anthony is making two franchises miserable right now. The Nuggets don't know whether their star will be back after this season and the Knicks are barely surviving without him. And before a lifeless crowd here at Pepsi Center, Anthony and the Nuggets barely held off the Knicks, 120-118, Tuesday night. The defeat extended the Knicks' losing streak to six games. Shooting was once again a major issue, especially from three-point range, where the Knicks were 9-for-31. It certainly wasn't a performance that would motivate Anthony to think he could be the missing piece to a championship team."
Blazersedge: "Sean Marks played six minutes and hit a mid-range jumper. I look forward to the day, reportedly coming soon, that Joel Pryzbilla's name appears on this line in place of Marks'. Paging you video fiends: a highlight reel of Marks running in circles while playing defense in the halfcourt would be pretty re-watchable."
By the Horns on a big performance by Derrick Rose: "Derrick Rose. Wow. When Rose got benched because of his fourth foul with 5:31 left in the third quarter, the Bulls were leading 60-58. By the time coach Tom Thibodeu subbed him back in to start the fourth, Chicago had fallen behind 71-63 and the Rockets seemed to have all the momentum on their side. Honestly, the Bulls couldn't have looked any more discombobulated. Then Rose got 'em "combobulated" again."