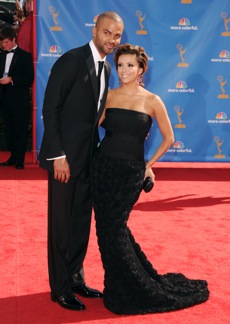 Posted by Royce Young
It was on yesterday and
then off.
But it's official.
Tony Parker
and Eva Longoria are splitting.
So Parker
is
back on the market. Not
that
market. No, the
Spurs
signed him to a big extension a month ago. I'm talking about
the
market.
According to a report from TMZ , Eva Longoria and Tony Parker will divorce. Longoria reportedly filed in Los Angeles.
Obviously Longoria is a super famous actress most known for her role in "Desperate Housewives." The two were married in July of 2007. I know you thinking, "Well, why?" I don't know why. But feel free to draw your own conclusions and speculate away. For instance,
J.E. Skeets of The Basketball Jones
is going with Eva is now dating
Steve Nash
.
In TMZ's report, they mention that Eva has Tony's initials tattoed somewhere on her body as well as "Nine" on the back of her neck. Nine is the number Parker wears, you see.
I for one am bummed. I hate when anyone gets divorced but the Parkers/Longorias
seemed
so great. She was always at Spurs games sitting courtside, cheering the team on. She always talked about the team like they were all buddies. It was such a happy family.
It's sad when two people split for whatever reason. Best of luck to them both. Considering their physical appearances and their professions, I think they'll be just fine.