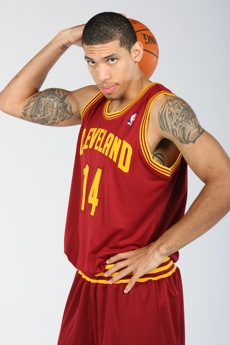 Posted by Royce Young
After guard
James Anderson
went down last week, it was pretty clear the
Spurs
were looking for more wing help. Then they waived Alonzo Gee, clearing a roster spot and making it all but a certainty.
Tuesday, the Spurs found their man. And I must say, he has the potential to be very Spurs-y. The team announced they've signed guard Danny Green, most formerly of the
Cavaliers
. He's a decent defender, is versatile at 6'6 and you can just picture him getting into the San Antonio system and hitting corner 3s before you know it.
But to this point, he has been inconsistent with both the 3-pointer and the defensive end. Those are two things he'll have to figure out if he wants to stay in San Antonio.
Green appeared in 20 regular season games last season with the Cleveland Cavaliers, averaging 2.0 points in 5.8 minutes per game. During the 2010 preseason, he averaged 3.3 points and 2.0 rebounds in four games with the Cavs before being waived in October.
More than likely though, the Spurs just needed some depth at guard and a warm body to practice with. Not to say Green won't see some playing time, but with
Manu Ginobili
,
Gary Neal
,
Richard Jefferson
and
George Hill
all already part of the rotation, making Green probably won't happen.
And he might not have a job any more when Anderson comes back either, but here's another oppotunity.