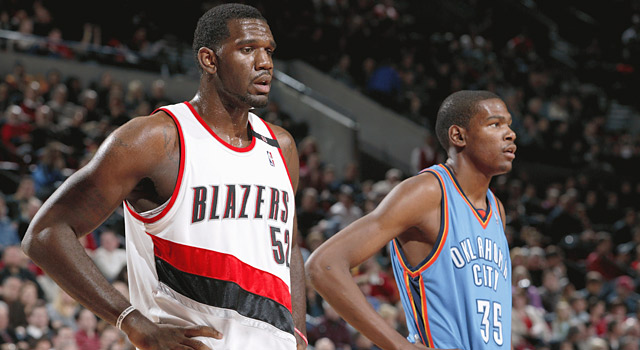 Posted by Royce Young
It's a shame. That's the word that comes to mind. A shame that
Greg Oden
is hurt again. A shame he's missing this entire season. A shame that the Blazers season has taken yet another hit and that Oden's career has taken yet another detour.
And a shame that we're never going to get an answer. A shame that we're all going to just have to wonder.
In April 2007, the biggest question wasn't who was going to run for the 2008 presidential election. It was "Oden or Durant?" And after news of Greg Oden's second microfracture surgery that will end his 2010-11 season, we're probably never going to get an answer.
Before I go on, yes, Oden still has a chance to have a professional career. It's not over for him. But the Greg Oden that entered the NBA and was projected to be a game-changing, championship building block of a big man is probably gone forever. The Oden the Blazers took No. 1 overall isn't going to be the Oden that's left after yet another injury and another surgery gets through with him.
Oden and Durant are forever linked. Because of one year, one draft, one general manager's decision, whatever happens, the top picks of 2007 stand to be compared for the rest of their respective careers.
Is it fair? No, not really. Is it perfectly natural? Yes, yes it is. Oden was taken ahead of Durant in what some considered a bad pick, even at the time. Oden, the conventional, dominant big man or Durant, the once-in-a-lifetime college superstar? Eventually, Oden won out, at least in former Portland general manager Kevin Pritchard's mind.
But in 2007, Durant won out, at least in the minds of most every NBA fan. Oden sat on the sideline, watching every game of his rookie season without playing a minute. He had his first microfracture surgery on his right knee before even sniffing a minute of real life run in the NBA. Durant, meanwhile, went on to glide to the Rookie of the Year Award.
Next, 2008. Oden starts his rookie season well, but 13 minutes in injures his foot and misses two weeks. The Sam Bowie rabble-rabbles fire up again. Oden returns after two weeks and plays relatively well. But in late February he bangs knees with Corey Maggette and fractures his left kneecap, and has to miss three more weeks. The tags of "fragile" and "injury prone" are tossed on Oden, two words that are the Black Spot for a big man. Bad knees, plus bad feet, most times equal bad career. You know, Sam Bowie. Rabble, rabble.
Durant again, is playing out of his mind. In his second year, he averages 25.3 ppg with insane efficiency numbers and high shooting percentages. He tosses his name into a group with Michael Jordan and LeBron James in terms of fastest to score 3,000 points. Durant is a revelation in the making. What were once murmurs of "Portland screwed up with Oden" are quickly becoming booming declarations in the forms of columns and articles and radio show banter and whatever else. Everyone that once thought Durant was a better pick than Oden is coming out of nowhere to remind you about it.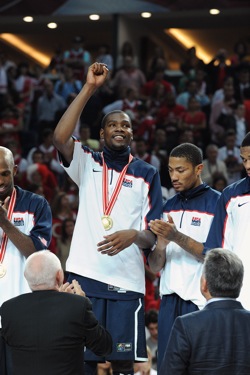 And then Dec. 5, 2009. Oden's second season is off to a nice start. The seven-footer from Ohio State is averaging a solid 11.7 ppg, plus a nice 8.7 rpg and 2.4 blocks per game in just 24 minutes a night. He's not Bill Russell like some thought, but he's certainly developing into a worthy center. Keep in mind, it is just Oden's second season. But like so many feared, six minutes into a game against the Rockets, Oden goes down a large heap clutching his knee. It quickly goes from "Oh, I hope he's alright" to "Oh no. Oh no. OH NO." Oden is on the floor writhing in pain. A stretcher comes out. Oden is carted off. His 2009-10 campaign is likely over just like that with a busted left patella.
Durant on the other hand finished the season as the league's youngest scoring champ in history, finished second in the MVP voting, took his team to 50 wins and the playoffs, signed a five-year maximum extension, won a gold medal in Turkey and the World Championship MVP and got enough preseason hype that if converted into a fossil fuel, could power America for the next 200 years.
And now, this. Another microfracture surgery, this time on last season's injured left knee. Greg Oden is the a true Shakespearean basketball tragedy. While Durant is an early MVP favorite and leading the league in scoring again. I don't think two players separated by just one pick could really go in much more opposite directions than this.
It's the reason you can't mention Oden's name without having Durant's follow closely along with it. Another shame in this whole ordeal.
Yes, Oden went ahead of Durant in the 2007. Yes, Durant's career projects to be more successful than Oden's. Yes, had Portland taken KD instead, they'd probably be a much better team. It's a nice "What If?" that might make Bill Simmons' fifth reprint of
The Book of Basketball
(now with more footnotes!) and give talking heads something to chatter about for a while. But this isn't the time for that. This is no time to smile and say, "Oops, should've taken Durant." It's a time to shake your head and feel absolutely awful for Greg Oden.
It's expected to compare the two players. I get that. It was a controversial pick at the time and it stands to be evaluated for a long time. It's what we do as sports fans. We play the armchair GM and judge and scrutinize and play the "What If?" game. When somebody makes a decision to take one guy over another, we have to pick it apart. What if the
Pistons
had taken Carmelo instead of Darko? What if the
Hawks
took
Chris Paul
instead of
Marvin Williams
? What if Shaq decided to be a synchronized swimmer as a child? Things might be different, but who really knows? Maybe Durant gets swallowed up in Portland's scheme and never evolves into the machine he is now. Maybe Oden lands in OKC and never is in a situation that gets him hurt and becomes an All-Star center. You just can't say for sure. You can't.
The thing is, Durant has always viewed the fact Portland passed him over as motivation. He hasn't been shy about that. That's who he is. He's competitive and the fact he was slighted has always given him a small chip on his shoulder like he still has something to prove.
But I can promise you, this news bummed KD out. He didn't want it this way. He didn't want people to come and pat him on the back and say, "See, Portland should've taken you, huh?" under these circumstances. He wanted to earn that. On the court. By outplaying Oden. Not by outlasting him.
Oden once told Henry Abbott
that it "bothers him a lot" to see KD playing well. But he meant it because it just illustrates his issues. Oden said, "Kevin's good and that team is good and him being the captain of that team… he's playing well. And when I see him playing well I get mad at myself."
Well it bothers me a lot too for those reasons, Greg. And I'm sure it bothers KD too. We all want to have the opportunity to get the Great Debate of 2007 settled. But it never looks like we truly will. A shame indeed.