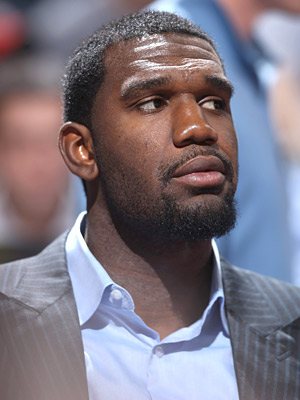 Other players who have faced the kind of terrible injury luck Greg Oden has. Posted by Matt Moore

Kenyon Martin
.
That's the first name you need to take a good hard look at. I asked the question on Twitter because honestly, I couldn't think of anyone else. Microfracture is hard enough on one leg. But two? That's madness. That's too much. But
Trey Kerby reminded me: Kenyon Martin
.
Martin underwent microfracture surgery on his left knee on May 6, 2005, and then on his right knee on November 15, 2006. That's two knee microfracture surgeries within two years, which is actually worse than what Oden has gone through... but only in terms of microfracture. Oden
also had surgery on his broken patella last season and his broken wrist in high school
,
Martin, though, did have microfracture on each knee and has returned to being a solid player, despite his inability to get back on the floor this season with a knee injury. The huge difference, though, is that Martin was a star player before the first surgery. Oden's never been able to get on the floor without lingering effects of an injury in some capacity.
Grant Hill
will also be brought up, but his was a specific recurring injury in his ankle.
Amar'e Stoudemire
is the constant discussion point when it comes to microfracture, to the point where the
Suns
refused to give him a contract guaranteed for five years due to concerns about the knee and Stoudemire has had insurance issues because of it and his eye injury.
Tracy McGrady
is another injury-embattled star who underwent microfracture, but again, his pre-injury career far exceeds that of what Oden accomplished in the league througout his career, which was injury-beset in the beginning.
For Oden to get back, it will take a monumental devotion to the game and fighting through every conceivable setback he can suffer, as well as some brief, tiny moment of good luck to fall upon him to let him heal correctly. As Ken Berger writes, though,
Oden's time may be up, especially in Portland
.