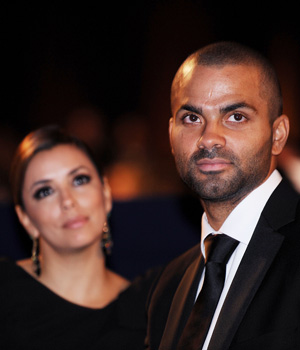 The twisted tale of Tony Parker, Erin Barry, and Eva Longoria creates a tantalizing love triangle story for the press... which is exactly what the Spurs try and avoid. Posted by Matt Moore
I'm going to try and do the unthinkable and try to create something that has to do with basketball or anything that's business to the rest of us out of this whole gigantic mess.
Quick catch-up:
Tony Parker and Eva Longoria were getting a divorce. Then
they weren't
. Then
they definitely were
. And now it's come out, at least in widespread rumors, that it's because Parker was sending sexual text messages to Erin Barry, wife of former Spurs teammate Brent Barry, currently an analyst for NBATV. You can go find about a billion stories about the situation on your own,
like this one
.
Yeah.
So this is pretty much terrible for Longoria, for Parker (even if he was doing whatever it is he's alleged to have done, we don't know anything about their relationships), for Barry, for Erin Barry, and most of all for the Barry's two sons. Yeah, they've got kids. Even though apparently Erin and Brent have been on the outs for a while . This is terrible all around and really shouldn't be being reported upon like it is... in this article. Yes, I'm using an article on the situation to tell you not to read articles on the situation. But since you're probably going to since "Erin Barry" and "Erin Barry Tony Parker" are the top two search results on Google, I thought I'd at least throw something basketball-related on this.
The Spurs aren't going to like this.
I mean, they already
don't like it and don't want to talk about it
. But this is the exact kind of thing the Spurs try very hard to keep out of their locker room. They do their level best to keep things nice and quiet, go about their business, not get much media coverage, and do their thing. And now this. Right after the team gave Parker
a massive extension
that had a lot of people raising eyebrows. This doesn't fit their M.O., doesn't fit their profile, and is going to be a distraction. A colleague told me last night's game was swamped with media in San Antonio, and it wasn't because the game was on ESPN. There's a flurry around this twisted tale, and that's, quite simply, not the Spurs' way of doing things.
The Spurs bring in veterans with good track records of being locker room guys. They most often shy away from dynamic personalities. Their star, despite being one of the funniest people in the NBA when he does decide to say something, is called a robot. Stuff like this happening on the
Lakers
? That's par for the course. Stuff like this happening in San Antonio? That's a breach of the Popovich Protocol. And Tony's going to hear about it. That's just the media attention.
Getting involved with a former teammate's wife? That's a whole other bag of beans. Sure, it's not a current teammate. But it's a former one. And the jump is not exactly Olympic from former to current. That kind of situation creates mistrust, which is not something you want surrounding your franchise point guard you just gave a high eight figures to. This isn't a situation that will be disastrous, the Spurs will find their way through, like they always do. But for a team that's off to such a hot start, this certainly isn't something they want to be dealing with.
And odds are, they're going to let Parker become aware of that, even as they stand by him through a trying personal time.
This concludes today's exercise in trying to make something relevant out of stuff that's really none of our business.