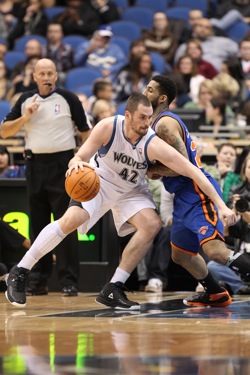 Posted by Royce Young
Kevin Love
is blogging for GQ and he had something mildly interesting to write about this time around. It wasn't about trying to fit in with the team or griping about Kurt Rambis or how it was kind of weird he went on that episode of
Sport Science
and chucked like 500 halfcourt shots. He wrote about something impressive he did recently.
But while talking about the historic game,
Love recounted an interesting moment that happened early on in the game.
The funniest thing about that night: early on I was getting heckled by a Minnesota fan. The guy was screaming at me: "Run back on defense! If this is how you're gonna play, we're gonna trade you!" The whole first half I kept hearing him, and that kind of enraged me inside a little bit, so I came out and had that big second half. After the game, I kept looking his way and shaking my head, flexing at him, like, "What do you say now?"

But it gets even funnier. After I left the arena, I went out to grab a drink with a couple of my buddies at this place called the Loon Café—and who's the first person I see when I walk into the bar? The same guy. The heckler. And I'm just like, "No. Way." So he comes up to me and says, "Listen, Mr. Love, I'd just like to apologize." (This is a grown man, by the way.) And I just kept saying, "You're the guy! You're the guy! You were heckling me the whole way! Did you see me at the end of the game?" He goes, "Yes. And I just wanna take back everything I said. We really believe in you. Do you mind taking a picture with us and signing a few autographs?" So I'm thinking, first of all, you wanted to trade me. You wanted me out of Minnesota. And now you want an autograph and a picture? But the guy was actually really friendly, and his friends were great. So we had fun with it. But it was just funny how quickly perceptions can change. I guess he decided to give me another chance after that second half.
Wait,
are we completely sure the heckler wasn't actually Kurt Rambis?


But I'd imagine something like 31 points and 31 rebounds could shut even the dumbest, most obnoxious fan up. But seriously, things must be rough in Minnesota if the hometown fans are heckling their own guys.