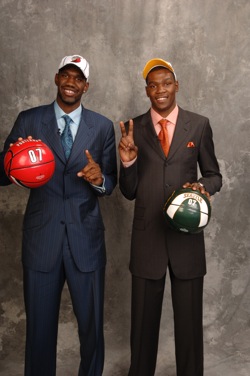 Posted by Royce Young
One of the biggest questions with
Greg Oden
isn't just about where his basketball career goes from here, but really, where does
he
go from here. Blazer president Larry Miller already said he would like to see a qualifying offer extended to Oden, but that doesn't guarantee it's happening. And if it doesn't, Oden is an unrestricted free agent.
So who could take a chance on a twice repaired, injury prone big man? Anybody? Come on, someone? Buehler?
As you run through teams in your head that could use a decent big man next season - Charlotte, Houston, Phoenix - you're probably not thinking about a pretty decent fit for Oden. How about teammates with the guy that Oden can't seem to get away from, no matter what he does? How about a move to... Oklahoma City?
Darnell Mayberry of The Oklahoman sees it as a potential scenario.
If you're Thunder GM Sam Presti, why not go after Greg Oden in free agency next summer? Why not take a chance on the one-time center sensation whose promise has faded because of faulty knees?

It would only be the greatest low-risk, high-reward maneuver we've ever seen Presti pull. And there have been plenty, most of them beyond question of the high-reward variety. We saw it with the near signing of C.J. Miles and the eventually rescinded trade for Tyson Chandler. We saw it with the successful signing of Nenad Krstic and the completed trade for Thabo Sefolosha. And, most similarly, we saw it with the flyer Presti took on Shaun Livingston, who nearly four years after a near career-ending knee injury still is navigating his full-time comeback.

...

And what better place is there for Oden to escape Durant's shadow than Oklahoma City? Rather than toil through life as the answer to a trivia question, Oden could redefine his career by joining forces with Durant and perhaps someday compete for championships alongside him.

It's not like the Thunder couldn't use even a marginally healthy Oden to aid its quest for a title. Nenad Krstic, Cole Aldrich and Byron Mullens, the Thunder's current cast of centers, certainly won't fool anyone into thinking they're championship caliber. Even if Aldrich reaches his full potential, which could be a Kendrick Perkins clone but probably is closer to Joel Pryzbilla, and Byron Mullens touches his ceiling, which at best is Tyson Chandler but realistically might be closer to Spencer Hawes, the Thunder could use another serviceable big man down the line. Mystery man Tibor Pleiss is waiting in the wings. But the 7-foot-1 German the Thunder selected 31st overall in June appears to be more of a Mullens clone, a player whose strength is more offense-oriented as opposed to rugged defense.
It sounds crazy for a second, but then again, it sounds kind of crazy awesome. Not only would that be a terrific story that would likely spawn 500 feel-good features, but it makes sense for the Thunder.
Mayberry's points out that while Oklahoma City has some nice frontcourt depth currently, it's not long-term depth and there's still some uncertainty there with Cole Aldrich, Byron Mullens and even Jeff Green's future. It could work well for Oden since the depth could allow him less stress and fewer minutes as he makes his way back.
Is this something that will happen? Probably not. It does make a good amount of sense. But sort of like Oden's first four seasons in the league, it probably won't have much of a chance to get off the ground.