New Jersey Nets forward Troy Murphy looks headed for the trading block. Posted by Ben Golliver.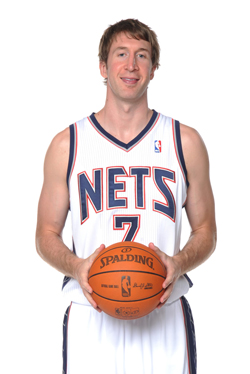 When the New Jersey Nets traded for former Indiana
Pacers
power forward Troy Murphy this summer, there wasn't any preconceived notions about his future with the team. Carrying a massive expiring contract and still a productive player offensively, Murphy, on paper, was an ideal stop gap solution for the Nets as they waited for 2010 first round pick
Derrick Favors
to develop into the monster he is destined to become.
Well, it hasn't worked out quite like that, because Murphy has been limited by injuries and
Kris Humphries
has emerged in the interim to take his minutes. Less than a month into the season,
the Star-Ledger reports
that Murphy is headed back for the trading block.
Troy Murphy, the Sparta-bred Delbarton grad who was acquired by the Nets over the summer, will "probably'' be traded this season, according to a person with knowledge of the team's thinking.
But in the last week, he has lost his starting job to Kris Humphries, who first started Nov. 10, when Murphy sat out a game in Cleveland because of a sore foot. Humphries played well that night, and coach Avery Johnson has kept him in the starting lineup for four straight games.
So what could the Nets get for Murphy? It's hard to say, as NBA executives are keen to note that expiring contracts like Murphy's don't always command the high value that public perception gives them. If I'm New Jersey, I'm targeting backcourt help, particularly a traditional bigger-bodied wing scorer. The Nets currently rank near the bottom of the league in offensive efficiency so that kind of a piece would be invaluable. The only question is, then, would be how bad of a salary are the Nets willing to take on in return for Murphy?