Houston Rockets center Yao Ming is expected to miss two more weeks with a leg injury. Posted by Ben Golliver.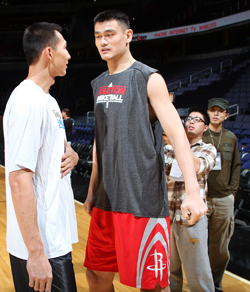 Back on Nov. 10
, Houston Rockets center Yao Ming left a game against the Washington
Wizards
with a "strained tendon in his left leg." Shortly thereafter, the Rockets informed the media that Yao would miss a minimum of a week and specified that the injury was to Yao's ankle. It's been nine days so far, and the
Houston Chronicle
reports Friday
that Yao has a way to go before his return.
Rockets center Yao Ming, who has been out for a week with a sprained left ankle, will miss at least two more weeks after an examination Thursday found a bone bruise in the ankle.
Yao could be out longer to work on his conditioning after the time off. The examination performed by Dr. Tom Clanton showed no complications with the surgery to restructure Yao's left foot with the problem isolated to the recent ankle injury.
Yao's extended absence another dose of bad news for the Rockets, who sit in the basement of a very competitive Southwest Division with a record of 3-8. Without Yao,
the Rockets rank
in the league's bottom 10 for rebound rate and defensive efficiency. His return, even in the limited minutes he is being allowed to play, can't come soon enough.