Miami Heat forward Chris Bosh explains a post-game comment where he said coach Erik Spoelstra wants to work while Heat players want to "chill."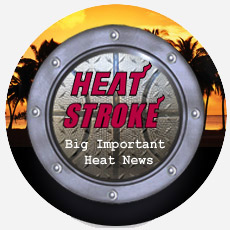 Posted by Ben Golliver.
Put your foot in your mouth.
Like a Bosh!
Walk back your comments. Like a Bosh! Miami Heat forward Chris Bosh struggled to start the season, but after a breakout performance against the pathetically-defending Phoenix
Suns
, Bosh
used his post-game interview
to explain to the world that Miami Heat coach Erik Spoelstra and the Heat players have an apparent difference of opinion. "[Spoelstra] wants to work and we want to chill," Bosh said. Chilling is likely not looked upon too kindly by Heat fans, especially after the team has so far failed to live up to its (self-created) monstrous expectations. In a radio interview on 790 The Ticket
transcribed by SportsRadioInterviews.com
, Bosh attempted to explain his "chill" comment.
"OK, I really don't understand. I can understand why people want to hear that, but in all honesty, we work extremely hard. We work extremely hard. We love our job. We love what we do. … When you go to work and you work hard, you feel that sometimes you need to rest a little bit so you can perform when it's time to perform. Spo, he's a natural head coach. Just like any other head coach, he's gonna feel like, 'We have to work at this,' because he has to be a perfectionist, right? … We're like, 'No, we'll figure it out.' It's just a common ground that we have to come to because we want to rest up for the next battle and he wants to prepare us for the next battle. We know we have to practice, and every time we go into practice, we're going at 100 percent. I said 'Chill,' OK, that's fine. Let me clarify. When I said 'Chill,' I didn't mean like I just chill at home every single day and don't go to the gym at all. In this league, you can't do that and be successful, I think we all know that. … I was tired, I was happy we won, I used a happy word."
Really. A "happy word." I guess we know now that if Bosh had televised his free agency "Decision" he wouldn't have picked a Boys and Girls Club as the location, instead opting for a Kindergarten classroom where he could draw a picture of a Florida beach with crayons. Here are some other happy words that I can think of off the top of my head ... Dedication, Focus. Winning. Rings.