New York Knicks power forward Amar'e Stoudemire says he wanted greater financial guarantees from the Phoenix Suns. Posted by Ben Golliver.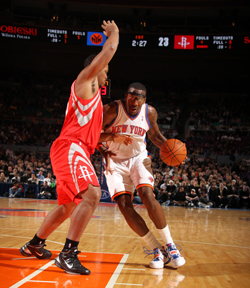 Earlier this week
, we noted that Amar'e Stoudemire blasted his New York Knicks teammates recently for a lack of "urgency" that he believes has led to their poor play. At the time, we noted that Stoudemire forecast his own fate this summer, turning his back on a veteran, talented Phoenix Suns group that made the Western Conference finals last year to sign with a young, untested Knicks team in free agency.
Yahoo! Sports quotes
Stoudemire today saying that his free agency decision was motivated in large part by the structure of the contract Phoenix offered him, which included only partial guarantees on the final years of the offer to hedge against the risks that come with Stoudemire's not insignificant injury history.
"It was a little difficult for me to grasp because of all the hard work I put in to stay healthy on the basketball court, and the effort I gave," Stoudemire said. "I felt I should have had a little bit more leniency towards my contract. As I told Phoenix before and I told the fans, my first option was to return to Phoenix. But obviously they didn't look at it that way.
"Let's say I would have twisted an ankle or something, it has nothing to do with a knee or any other structural problems, my contract would have been voided. Security-wise, that wouldn't be a great situation for me and my family, so I didn't feel comfortable signing it."
Stoudemire's desire for maximum financial security is completely understandable, but his reasoning only reinforces his own decisive role in his current predicament. Dealing with the Knicks struggles is on his broad shoulders alone. Any further comments regarding frustration with his teammates should be directed, first and foremost, to himself.