Denver Nuggets forward Carmelo Anthony could be traded even without agreeing to a contract extension. Posted by Ben Golliver.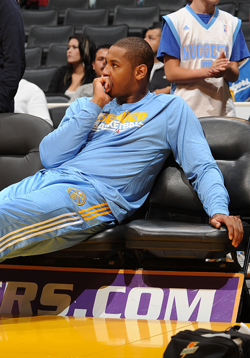 By far, the two most likely scenarios that see Nuggets forward Carmelo Anthony moving out of Denver are an extend-and-trade before this year's trade deadline or a walk during unrestricted free agency next summer. If Anthony agreed to an extend-and-trade, he would get guaranteed money locked in for the future and a fresh start with a new group of teammates. If Anthony waits until the summer, he will have free reign as the marquee name in the free agent class of 2011, commanding top dollar and getting to pick his choice of suitors without compromise or the risk of losing pieces in that city to Denver in a trade for him.
It's become conventional wisdom in NBA circles that Anthony will only be traded if he agrees to the contract extension, otherwise potential trade partners would only be renting his services and forced to part with assets in return and still deal with the fact that Anthony could walk free this summer.
ESPN.com reports
that this risk has been deemed acceptable to multiple NBA teams, opening up the possibility that Anthony is traded without agreeing to an extension this season.
There are always teams willing to bet that a star like Anthony will like their situation if they can just get him to town.
I know of two such risk-taking teams in Texas alone -- Dallas and Houston -- that would take on Anthony sans extension if their assets proved sufficiently attractive to construct a three-team (or more) deal palatable to Denver. Orlando is also presumed to be another such risk-taker, given the obvious lure of pairing Anthony with Dwight Howard. And Charlotte, with Melo's buddy Michael Jordan in charge, has been suggested as another willing Melo dice-roller by various front-office sources.
Negotiating such a trade would certainly make life easier on the Nuggets, especially if multiple teams with assets were willing to take the risk with Anthony, driving the price up. Still, the two options mentioned above seem like the most likely scenarios for Anthony. With a new management team in Denver and an up-and-down start to the regular season, Anthony's future, at least for now, is anyone's guess.