New Golden State Warriors owners Joe Lacob and Peter Guber are thrilled with guard Monta Ellis's newfound maturity. Posted by Ben Golliver.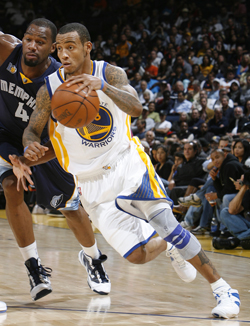 New Golden State Warriors Joe Lacob and Peter Guber are understandably elated that their ownership takeover has finally been completed and in
an extensive interview with Fanhouse.com
they gush over just about everything related to their new team. As they should be, given Golden State's hot 7-4 start that has them in second place in the Pacific Division, trailing only the defending NBA champion Los Angeles
Lakers
. Perhaps the most interesting section of the interview comes in the discussion of guard Monta Ellis, who,
as we noted last week
, is off to a pretty electric, not to mention efficient, start to the 2010-2011 NBA season. Sam Amick, writer for Fanhouse, says he has seen a change in Ellis's personality this season, with Ellis becoming much more mature, and Lacob responds...
When you just said this, and I'm serious about this too, I was just getting goose bumps. What you just said really impacts me. I've gotten to know Monta over a short period of time, better than almost any player except for David (Lee), and he's not what I expected either. He has always been one of my favorite players. He is obviously an immense talent. He's one of the fastest players in the NBA. He's so fun to watch when he's on. But you know, he was immature.
You can make an argument that he's a black hole type of player -- there's been that element in the past and there are other players who are like that. (But) he has been an incredible surprise. Whatever the reason being, maybe it's his own maturity, maybe it's getting married, maybe having a child, maybe it's David in the locker room, maybe it's he and (second-year point guard) Steph (Curry) finally connecting in the offseason, maybe it's getting rid of some bad eggs in there (the locker room), maybe it's new ownership. Whatever it is -- and maybe it's a combination of all those things -- this guy is unbelievable. He has matured so quickly and changed. He is a team player out there. He is a great scorer, but he doesn't force it all the time. He's looking for the other guys, trying to get a lot of assists some nights when he doesn't have his shot. He has bought into a team atmosphere, team play. This is the most important story. I don't think anyone is writing this story to the level they should at this point. It's something very magical happening here. When a guy like that, with that kind of talent, buys into the team thing, it's huge.
It's always nice to see the light turn on for score-only NBA players, as the game has so much more to offer to talented offensive threats than just their own numbers. Second-year point guard
Stephen Curry
has been a revelation this year too, and Ellis is wise to realize how much easier a multi-talented guard like Curry can make his life. Golden State, so long a fringe NBA oddity, is emerging as the mainstream feel good story of the season. And Ellis, so long a question mark, is turning himself into an exclamation point.