The Portland Trail Blazers have announced that center Greg Oden has undergone successful microfracture surgery. Posted by Ben Golliver.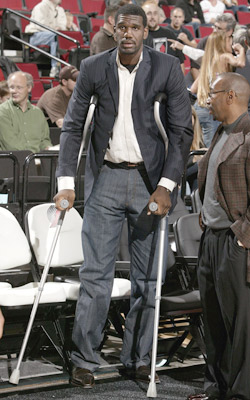 On Wednesday night, the Portland Trail Blazers announced that center Greg Oden would need to undergo microfracture knee surgery on his left knee. On Friday, the team announced in a press release that the surgery was a success.
PORTLAND, Ore. – Portland Trail Blazers center Greg Oden underwent successful microfracture surgery today on his left knee, it was announced by General Manager Rich Cho.
Oden, 22, will miss the remainder of the 2010-11 season. "We are pleased that Greg's surgery went as planned and we are here to support him fully in his rehabilitation," said Cho. "I have a great deal of confidence that Greg will work hard and do all that is asked of him in order to get back on the court." Dr. Richard Steadman performed the surgery with assistance from Trail Blazers orthopedic surgeon Dr. Don Roberts at the Steadman Hawkins Clinic in Vail, Colo.
Oden has a long road ahead of him. His previous microfractury surgery, on his left knee, took place during the summer of 2007 and wiped out his entire 2007-2008 season, although he was able to play in Portland's 2008-2009 season opener against the Los Angeles
Lakers
. Given that Oden had surgery last year in the same knee, to insert hardware to repair a broken patella, his rehabilitation will no doubt be undertaken with the greatest care possible.
Yahoo! Sports reports
that Oden and his agent, Bill Duffy, are aiming for a nine month recovery timetable, which would make Oden available for the start of training camp next fall.