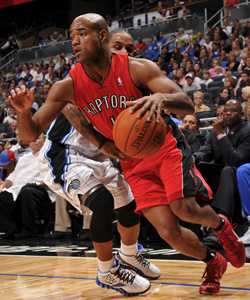 Trade being discussed to send Peja Stojakovic and Jerryd Bayless to Toronto for Jarrett Jack, David Andersen, Marcus Banks. Posted by Matt Moore
UPDATE 2:07PM:
CBSSports.com confirms the trade is done, talks with the league will occur this afternoon. Bizarre.
Ken Berger confirms that the
Hornets
save $4.6 million immediately, which gets them off the cap and allows them to look at options at the deadline. The
Raptors
, in addition to getting Peja's expiring contract they can move before the deadline, save $4.7 million next year.
We'll have more analysis in a bit.
The
New Orleans Times-Picayune
, a bizarre Euro site via
HoopsHype.com
, and
ESPN are reporting
that the New Orleans Hornets are close to a trade that would send Peja Stojakovic and Jerryd Bayless to the Toronto Raptors for Jarrett Jack, Marcus Banks, and David Andersen. It is a baffling trade from about a hundred angles. We'll go over some of them here while the two fight over how much money the Hornets have to send the Raptors.
The Hornets are 10-1, not exactly in need of a bump-up, and having Bayless as a change of speed, dynamic scorer off the bench was a good thing for them. Getting Jack gives them a veteran defender and solid backup point guard in a more traditional mold, but it also means they get a B+ point guard in salary and talent for a spot they only have about 15-20 minutes or less for a night due to them having the best point guard on the planet.
Moving Peja right now means they lose the ability to swap him at the trade deadline, when his $14-million-plus expiring contract is likely to have more value than it does now. That kind of expiring change can help you fill in a lot of holes when teams decide they need to cut payroll dramatically. Teams will also know more about how the CBA talks are headed after the All-Star break.
For the Raptors, it's just as puzzling. Bayless is a terrific young talent and having Peja's expiring are both good things. But this puts Jose Calderon firmly in the starter's role for point guard, and he's a defensive sieve. They get smaller at the guard positions, and just try and imagine a Jerryd Bayless and Leandro Barbosa backcourt. They would represent the Lollipop Guild for crying out loud.
As Bayless can't be moved until December 23rd, Bruce Arthur of the National Post reports via Twitter that the deal may be set up as one of those "agreed all together, executed in parts" type deals where the Raptors would use part of their Chris Bosh trade exception to acquire Bayless.
Andersen's not a terrible center, he's really not in a league that has so few good ones, but he's redundant with Aaron Gray on the roster.
Marcus Banks is barely alive in NBA terms.
The Raptors will at least be fun to watch, and with Willie Green becoming the entrenched backup to Marco Bellinelli (who saw either of those things happening this year?), Bayless and Peja were expendable. This isn't really about losing vital assets for the Hornets, it's about not capitalizing on bigger opportunities. But at 10-1, I guess Dell Demps and Monty Williams have earned the right to bet with House money a bit.
ESPN also reports via Twitter that Jack is a close personal friend of CP3, which could explain this as a further move to make the superstar happy.