An analysis of the five-player trade between the Toronto Raptors and the New Orleans Hornets involving Peja Stojakovic, Jerryd Bayless, Jarrett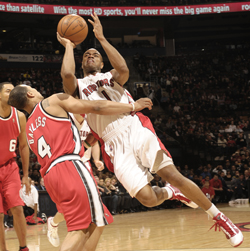 Jack, David Andersen and Marcus Banks. Posted by Ben Golliver.
According to multiple reports
, and confirmed by CBSSports.com's Ken Berger, the Toronto Raptors and New Orleans Hornets have agreed to exchange five players via trade. Toronto will send guard
Jarrett Jack
, guard Marcus Banks and big man David Andersen to New Orleans for guard Jerryd Bayless, who was recently acquired in a trade with the Portland
Trail Blazers
, and forward Peja Stojakovic.
New Orleans Hornets
Stojakovic and his giant expiring contract were bound to be traded this season, and this trade signals that Hornets were happy to just unload the salary and reduce their cap number to get further under the luxury tax without looking to acquire a big-dollar asset in return in a larger package deal. That's smart cap management. The Hornets, despite their fast start, are still working to establish a backcourt rotation around all star point guard
Chris Paul
. Compared to Bayless, Jack is more of a "Monty Williams Type" of player and prototypical third guard that can defend two positions, he brings a better all-around game, and strength and toughness off the bench. Right now, he's a better defender and a better play-maker than Bayless, he's more mature and he runs an offense better. In terms of keeping Paul happy and making a playoff push in the short-term, Jack is the guy over Bayless. To make that upgrade, New Orleans takes on Jack's contract that runs this year plus two more at roughly $5 million a year. It might be a bit more than he's worth, but he's a solid rotation guard so it's not terrible by any means. Banks is not an impact player, and the good news for the Hornets is that his $4.8 million contract expires this season, so he's likely out of sight and out of mind this summer unless he really impresses. David Andersen, a jump-shooting 7-footer from Australia, has battled the "soft" label so far throughout his NBA career, and in typical fashion the "soft" label has beaten him down. His contract runs through next season but is not fully guaranteed, so his long-term future in New Orleans is also questionable. This trade is a good reminder that large expiring contracts are probably over-valued in the public mind. Here a $14 million expiring contract was outright dumped to facilitate a swap of back-up quality guards, and nothing more.
Toronto Raptors
The Raptors had been rumored to trade one of their point guards --
Jose Calderon
or Jarrett Jack -- for months, because there wasn't room for both, but this seems like a strange, bad way to make that inevitable move. Stojakovich, for all intents and purposes, is done as an NBA player, so the main reason to trade for him would be to unload a massive contract by receiving his expiring deal. The Raptors didn't do that here, shedding only expiring and/or partially guaranteed contracts along with the future money owed to Jack, which wasn't all that significant. The best defense of this trade from Toronto's perspective is that they love the potential of Bayless, who is still waiting for the right opportunity to strut his lottery talent. But Bayless presents many of the same fit issues for Toronto that Jack did, as his skillset is not especially complementary to Calderon and fellow guard
Leandro Barbosa
. Toronto needs defense in the backcourt, and Bayless is a downgrade from Jack in that department right now. The Raptors also need someone to help guide the development of promising wings
DeMar DeRozan
and
Sonny Weems
, and Bayless isn't known for his play-making or passing abilities. Like Barbosa, Bayless is best as a scorer off the dribble. How many of those guys do you need, especially when your centerpiece is a floor-stretching post man? Get ready, Raptors fans, to watch Bayless blow by his man to the glass as
Andrea Bargnani
stands at the free throw line with his hands up, wondering where the ball disappeared to. The big upside regarding Bayless is his contract: he's still on his rookie deal and he has shown flashes of legitimate top-end talent and scoring ability, thanks to a solid first step and an ability to get to the free throw line. He'll have all the time in the world to reach his potential in Toronto, which has arguably the worst roster in the league before this trade, and just made it worse. The only way to salvage this deal is to create an environment where Bayless can really blossom, as his potential is the only on-court asset acquired. Therefore, you would hope Toronto has more moves coming in the immediate future, perhaps flipping Stojakovic's contract for a quality piece at the trade deadline, which could make this trade look totally different if it netted an impact piece. You also have to wonder why the Raptors stuck with the highly-paid Jose Calderon over Jack. Perhaps his contract was too difficult to move.
Winners and Losers
The winners are GM Dell Demps and his Hornets owners, from a financial perspective, and Jack for getting to leave a bad situation for a winning situation and a coach with whom he is familiar. The losers here are Toronto Raptors GM Bryan Colangelo, who just moved a solid trade asset to downgrade at the position in the short term, and Jerryd Bayless, who goes from fighting for minutes in a crowded backcourt on two winning teams this year to fighting for minutes in a crowded backcourt on a terrible team. NBA fans are also winners here because of this oddity: this trade marks the second time in 2.5 years that Jarrett Jack and Jerryd Bayless were exchanged for each other. On draft night 2008, the Indiana
Pacers
selected Bayless and traded him to the Portland Trail Blazers for Jarrett Jack and the rights to
Brandon Rush
.