Former NBA all star Anfernee "Penny" Hardaway wants to return to the NBA. Posted by Ben Golliver.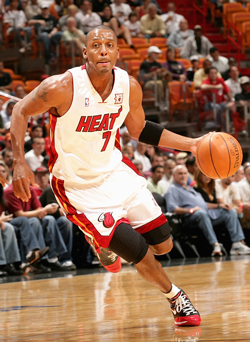 Anfernee Hardaway, better known as "Penny," was so flipping amazing at basketball that there's no snark allowed in any posts about him. Penny earned that distinction after being the most electric point guard since
Magic
Johnson, after bringing the phrase "
Tyra Banks, Fool!
" into America's living room and after enduring cruel injuries that robbed him of a potential Hall of Fame career. With that disclaimer, Hardaway is now 39 years old, has been out of the league since 2006, and seriously believes he should get another shot at cracking an NBA roster.
Boston.com
has the relevant quotes in an excellent profile.
"I still love the game and I feel like I deserve that chance, but at 39, everybody's looking at the age,'' he said. "They're not looking at it as if I can still play.
"I don't have a lot of miles on my body because my knee was hurt for so long. But I feel like I can play a minimal role on anybody's team and help out. Role players now are playing 10-12 minutes a night. That's simple, man.
"My knowledge, my playmaking ability, I can still knock down an open shot. I watch the game and still see things out there I can do to help teams, but who knows if that will ever happen? I doubt it, but I'll be ready if the situation did occur.''
The interview also includes news that Hardaway sits courtside at Memphis
Grizzlies
games, marinating on his past. Boy, that's depressing. Like I said earlier, no snark allowed here, so let's just use this as a good opportunity to revisit a classic Nike commercial starring Penny in slow motion,
courtesy of YouTube user DaniBoxx
. Spectacular. "What could have been." The four words that will haunt Hardaway for the rest of his life.