Erick Dampier can't solve all the Heat's problems as the superstars drop another one, this time to Indiana. Posted by Matt Moore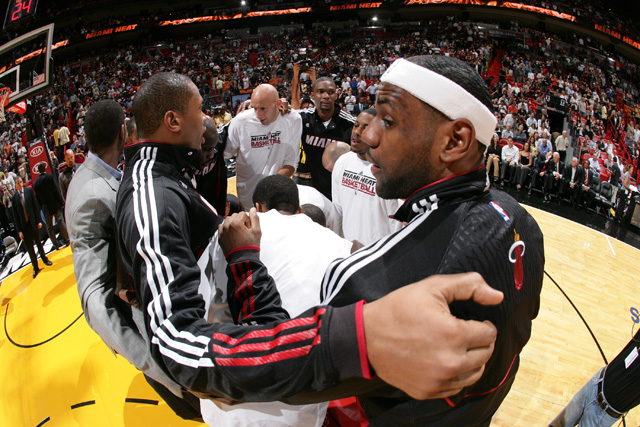 I'm not going to waste time with "Maybe
this
is the one that gets their head right." You'll hear no "Maybe
this
is the one that gets them in gear." No more of that. The Miami Heat are a mediocre team right now. It means nothing in regards to the playoffs, which they will likely make regardless of how bad they look now because they are able to out-talent a largely unimpressive Eastern Conference. It means nothing in terms of the legacy of the Big 3 or this grand experiment. It means simply that.
The Miami Heat are an utterly mediocre team right now.
In tonight's
93-77 beatdown
courtesy of the Indiana
Pacers
... think about that... the Indiana Pacers... the Heat showed the total array of their failures this season. The symptoms which developed in those games against Boston have turned into full-blown medical emergencies, causing hemorhages on-court and flat-lining the Heat for the second game in a row, just two days after a mediocre
Grizzlies
team beat them. This, in front of a Miami crowd that's been as underwhelming as the Heat. This grand experiment isn't a failure yet, but the early returns would prompt funding agencies to pull-back on their promises of renewed grants. The Pacers
handled
this team, despite
Dwyane Wade
playing. Or "playing" as I wouldn't call 3 points on 1-13 shooting with 5 assists, 4 rebounds, and 5 turnovers exactly "playing" in the DWade sense.
The Heat announcers talked about how the team was "blue" because they're missing their captain,
Udonis Haslem
, out with foot surgery. And
Ken Berger reports help is on the way
with Erick Dampier likely to sign a one-year deal on Tuesday to bolster their sad, depleted frontcourt. But that's not going to solve the problems. It's not going to make the Heat close out with any urgency, which they have yet to do this year with the exception of their
Magic
win. It's not going to make them hustle on defense, as
LeBron James
tonight stood and watched a streaking Pacers guard blow by him with
Carlos Arroyo
pointlessly trying to keep up and head to the bucket for an easy two. It's not going to make Erik Spoelstra come up with a feasible game plan instead of the pointless meandering this allegedly "elite" ballclub calls an offense. Dampier will help them rebound and foul hard, and that will help, since
Chris Bosh
once again looked meek and mild, this time in the face of young
Roy Hibbert
and
Danny Granger
. But he won't make this team look like it wants to be on the floor or play like a team.
It was up to Riley to get the three in the building, it was up to Spoelstra to get them to play with purpose, together. Riley did his job. And with every inexcusable loss for a team with this hype, this payroll, this talent, you have to wonder if Riley isn't going to end up doing Spoelstra's job as well.
The Heat's problems are in total. Effort, execution, focus, luck, deliberation, strategy, intensity. The entire menu of things you need in order to be an elite NBA team is missing. The only things left are neat intro videos and a bunch of players who don't seem to look at each other, talk to each other, or want to play with each other. And Monday night against a Pacers team that had none of the Heat's talent but all their missing intangibles, the inescapable truth showed itself again.
It's too early to call this a failure.
But it's surely too late to say that it's working.