The Miami Heat have reportedly waived Jerry Stackhouse to sign center Erick Dampier. Posted by Ben Golliver.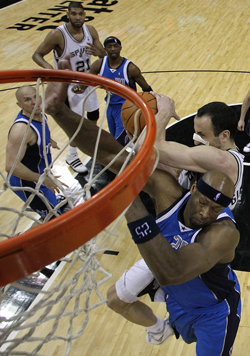 Last night,
CBSSports.com's Ken Berger reported
that, in the wake of a long-term foot injury to forward
Udonis Haslem
, the Miami Heat would sign free agent center Erick Dampier to a one-year contract. Prior to that signing taking place, however, the Heat had to release a player because they were already at the NBA's roster maximum of 15 players. Candidates for the waiving were thought to include veteran center
Jamaal Magloire
, who has played just 31 minutes so far this season, and rookie
Dexter Pittman
, who has yet to take the court. Conventional wisdom on Monday night had circled around the idea that a new big man would replace a previous big man. It appears that the Heat are going a different direction, however, as
Chris Broussard reports on Twitter
that Heat forward Jerry Stackhouse will be the odd man out.
Stackhouse was signed a month ago
to the day to help fill in for the absence of injured forward
Mike Miller
, who is also out for an extended period of time this season with a finger injury. He had appeared in just seven games for the Heat so far this year, playing a combined 50 minutes and averaging 1.7 points, 1.0 rebounds and .4 assists. This is whack-a-mole roster management at its finest, as the Heat have now unplugged one hole on the wing to plug another in the middle. With
James Jones
and
Eddie House
both making contributions, and with perimeter mainstays
LeBron James
and
Dwyane Wade
logging heavy minutes, the decision to sacrifice Stackhouse to shore up the middle makes sense. The Heat are currently
17th in the league in overall rebound rate
and need all the help they can get, even from a marginal veteran like Dampier. The Heat now have five centers on their roster: Dampier, Magloire, Pittman,
Zydrunas Ilgauskas
, and
Joel Anthony
. For more, check out
Matt Moore's takedown of the Dampier signing
.