Miami Heat coach Erik Spoelstra tries to laugh off comments made by Los Angeles Lakers coach Phil Jackson about Spoelstra's job security. Posted by Ben Golliver.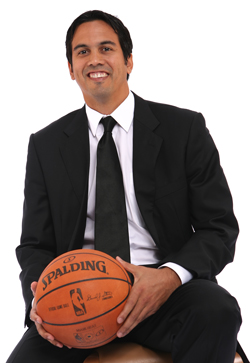 There's no easy way to respond when Los Angeles Lakers head coach Phil Jackson, aka the Zenmaster, gets his hooks into you publicly. On Wednesday, Miami Heat coach Erik Spoelsta did his best to laugh off
Jackson's comments
, made Tuesday, which questioned Spoelstra future in Miami and brought up the possibility of Miami Heat president Pat Riley taking over for him, as Riley did during the 2006 season, replacing then-Heat coach and current
Magic
coach Stan Van Gundy.
The Palm Beach Post reports
that Spoelstra said his assistant coaches kidded him about the comments and that they "got a good chuckle out of it." Spoelstra told the paper he understands that he is the subject of talk from a lot of people, including Jackson, but that he isn't one of the NBA coaches who closely monitors what is said about him.
"I don't have time," Spoelstra said, laughing. "I mean, if I had time, I would do that. No, I mean, there's so much stuff that's out there, I don't know how anyone can keep up with anything. And ultimately, that would be a distraction to me. I'm able to focus on my job, this group, and our process of getting better. That takes up a large part of my day. The rest of my day I want to spend not even thinking about our team."
As for whether he would step out of the way to make room for Pat Riley, as former Miami Heat coach and current Orlando Magic coach Stan Van Gundy did in 2006, Spoelstra had a one-liner ready.
"First of all, I'm single, OK, so I don't think I'll be taking a leave from my team to spend time with my family."
Funny stuff, very self-aware and self-deprecating. You gotta love it, given the circumstances. Of course, the joke will be on Spoelstra if he can't turn this thing around, as Miami continues to struggle to open the year. The Heat have a record of 8-6 and a date with the Orlando Magic on Wednesday night.
Earlier Wednesday
, Orlando Magic coach Stan Van Gundy called Jackson's comments "inappropriate" and "ignorant."