New Jersey Nets guard Terrence Williams is having problems showing up on time and head coach Avery Johnson is weighing his options. Posted by Ben Golliver.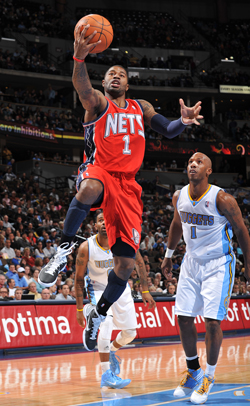 Update (Friday):
Yesterday (below), we advocated a policy that would make New Jersey Nets wing Terrence Williams think about his professional obligations. Today,
NorthJersey.com reports
that, rather than being left indefinitely inactive, Williams has been assigned to the D-League, where he will play for the Springfield Armor. Same message, different method: smart move.
Original Post (Thursday):
Terrence Williams, a second-year guard for the New Jersey Nets, has the skills and physical tools to be a much more productive player in the NBA than he has shown so far. Big-bodied and with excellent leaping ability, Williams should be a solid, physical second-unit wing capable of getting his own shot and bodying up on his man. Instead, Williams is a giant question mark for the Nets and head coach Avery Johnson, as he has reportedly been late to practices and shootarounds multiple times. He was deactivated by the team last week, didn't travel on the team's current road trip and has appeared in just eight games so far this year, averaging 6.8 points, 3.8 rebounds and 3.0 assists in 20 minutes per game. His stats are down across the board from his rookie numbers. Johnson is a known disciplinarian, and on a young team like the Nets sometimes examples need to be set. Williams, it sounds like, is becoming one of those examples. Fed up with his continued tardiness after being fined, the Nets and Johnson,
NorthJersey.com reports
, are now exploring their options regarding Williams.
At this point, the Nets are not planning to fine Williams (again), suspend him, send him to the NBA Developmental League or trade him. His value is too low.
The Nets will see whether Williams, who repeatedly has been late, has gotten the message. Then Johnson and general manager Billy King will decide whether to activate him and bring him to Philadelphia for Saturday's game, or keep him inactive until he learns his lesson. "Billy and I will sit together on the flight and come up with a solid course of action of what we want to do," Johnson said. "I will have an answer on Friday. A definitive answer, no sugarcoating it, no gray area, we'll have an answer."
In a related
NJ.com report
, the Nets are said to be weighing a release, trade or additional fines, or leaving him on the inactive list.
Johnson said a suspension of Williams, who did not make the trip to Boston with the team, is "not one of the options that we've discussed.'' He did say that one of the options is simply bringing Williams back on the active roster after his two-game punishment.
So if suspension is not being considered and reinstating Williams is, what other options are there? Well, Williams could be waived, or traded or fined. But Johnson said Tuesday that the team had fined Williams before, and that had not corrected the problem. One other option, of course, would be to simply leave Williams on the inactive list indefinitely.
A trade of Williams, at this point, seems unlikely, as word is certainly out around the league about his work habits, and that's a giant red flag in the short term, but could dissipate after a solid stretch of productive play. In other words, trading him now would be selling low. The Nets would be foolish to waive Williams, and this seems like the least likely possibility. He is an asset, if only as a salary number for a larger trade, and, if he gets his stuff together he could be a valuable piece for this team. If fines aren't working, and it sounds like they're not, the Nets will likely decide between letting him rejoin the team under certain conditions, letting him rejoin the team but remain on the bench, or leaving him inactive for a stretch. I like the last option, because it gets the message across: playing in the NBA is not a gift, it's an honor that demands a high level of professionalism. No NBA player, no matter how confused or unfocused he might be, wants to sit indefinitely, not knowing his fate. Playing time is always the best motivator. A stretch away from team and court has done wonders for players with much larger problems and issues than Williams.