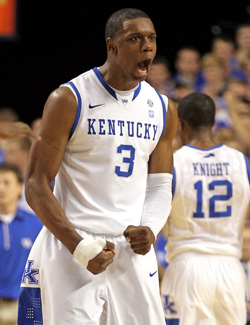 NBA labor dispute could have impacts not only on NBA players but freshmen headed for one-and-done status.
Posted by Matt Moore

Kyrie Irving was busy tearing up teams on Duke's way to dominating the CBE Classic in Kansas City. Terrence Jones was making a name for himself in Maui. Josh Selby was continuing his ineligibility thanks to Team Melo. Harrison Barnes was struggling to find himself, and Enes Kanter, well, he wasn't doing anything much at all.
The country's best freshmen draft prospects were a little distracted last week when NBA Union head Billy Hunter said
he was 99% sure there would be a lockout next season
. But don't think the comments didn't trickle their way into the youngsters' ears at some point later, along with
Ken Berger's report of hope emerging
in the talks just as Hunter talks doom and gloom.
You're going to hear a lot from these kids as the year goes on about how they're not paying attention to the CBA talks. You're going to hear about how they are just focused on their team and trying to win now, for their teammates. And everything you hear is ignoring the reality which is that the current tensions between the owners group and the union has to have these standout freshmen concerned.
The freshmen have a bigger decision because "one-and-done" players are usually the most talented and have the best chance of getting drafted as high as possible. There are certainly exceptions (
Evan Turner
and
Blake Griffin
are two that spring immediately to mind). But "one-and-done" has come to mean high profile draft pick in recent years and next year's projected draft class is chock full of them.
Five of the top six players projected in the 2011 class
by Draft Express are freshmen (though it's hard to argue Enes Kanter is a freshman anywhere at this point).
A lockout means leaving college puts them in a precarious position financially should they elect to jump to the draft this summer. Staying in college increases the odds of injury, their stock dropping, or other forces beyond their control impacting the number of millions they're able to collect when they decide to become a professional.
So it's kind of a big decision.
The question is if the concerns surrounding a lockout for the freshmen will be enough to keep them at their schools next year. If they do talk kids off the professional highwire ledge, it could have huge impacts on next year's college basketball season.
Gary Parrish of CBSSports.com
isn't convinced the lockout concerns will freeze the freshmen, because they'll have other options to make some dough before their contract dough gets sorted out. But if they do, it'll make for a stellar college basketball season in 2011-2012. As
Parrish
told F&R:
"I'm not certain a lockout would force everybody back to college the way some suspect because the elite guys, at the very least, will still have options. A freshman coming off a great season and deep run in the NCAA tournament -- Jared Sullinger? Kyrie Irving? Terrence Jones? -- might be high-profile enough at that point to secure endorsements that can't be turned away, or maybe a European club offers big money to bring a 'name' over. Beyond that, academics could always force the hand of a few who never intended to be in school more than a year. So we shall see. But if a lockout comes and guys subsequently decide it's to their benefit to just remain in college, wow, we could be in for a great 2011-12 season of college hoops.

Imagine Kentucky adding Mike Gilchrist, Anthony Jones and Marquise Teague to Terrence Jones, Brandon Knight and Doron Lamb. Or Duke operating with Kyrie Irving, Quinn Cook and Austin Rivers. Or Baylor putting Quincy Miller beside Perry Jones. Or Texas with Tristan Thompson, Cory Joseph and Myck Kabongo? Or Memphis returning every relevant player from a team currently ranked 14th, and then tossing Adonis Thomas into the mix.

Again, I'm not sure a lockout will create all or even any of this because returning to school wouldn't be the lone option for the current crop of freshmen, especially the ones who spend March turning into household names. But are the possibilities fun to consider? Yes, absolutely."
The union naturally isn't concerned with players who aren't in the league, beyond some preliminary talks about eliminating the age restriction. They've got bigger concerns for established veterans and trying to fend off the losses in revenue share being discussed. (
Read more about how the union is softening
on that stance in Ken Berger's column here.) But this situation goes to show how massive this lockout situation is. It will hold an impact on the NBA which is enjoyed success it hasn't seen since Jordan retired (the second time), players, owners, agents, and even those youngsters making a name for themselves in front of the student bodies.
It's just another example of a world that could be dramatically altered not by play on the hardwood, but by talks held in boardrooms over the next ten months.