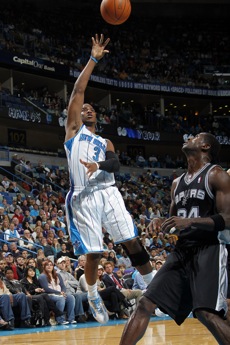 Posted by Royce Young
Big news here: The Orlando
Magic
would like to have either
Carmelo Anthony
or
Chris Paul
on their team. I know, brilliant general managing there.
But according to the Orlando Sentinel,
the Magic are open to trading anyone on the roster not named Dwight. That's right, anyone.
J.J. Redick
,
Brandon Bass
,
Vince Carter
,
Jameer Nelson
,
Rashard Lewis
,
Marcin Gortat
... any of those guys can be yours if you just pick up the phone. But here's the interesting part: The Magic are 12-4 on the season and look ready to contend once again for the Eastern crown. But according to the report, Orlando would be willing to take a little step back in the present, if it meant securing Paul or Anthony for the future.
When this original Carmelo stuff started to go down, Ken Berger mentioned the Magic as an early contender for Anthony. Most focused on other destinations like New Jersey, New York and Chicago, but the Magic have the pieces in place to potentially satisfy the wishes of the
Nuggets
. Paul on the other hand doesn't look like he's going anywhere for the time being. But Melo will be moved, eventually. And Orlando could be a destination.
By the sounds of it, the Magic are aggressively pursuing options in the trade market.
Gilbert Arenas
is mentioned. So is
Monta Ellis
. Orlando isn't satisfied with its current scoring punch and is searching for a reliable go-to option.
That's the biggest scratch on the Magic's armor and Vince Carter hasn't been able to fix it. Against premier defensive units, Orlando's drive-and-kick offense can easily be shut down.
Dwight Howard
's post game is much improved, but there has to be an isolation option.
There has to be a guy that can score eight straight points when shots aren't dropping. Great big men are the foundation of a championship team and the Magic have that. But they need the walls and a roof still. And apparently, they're willing to deal the furniture to get it.