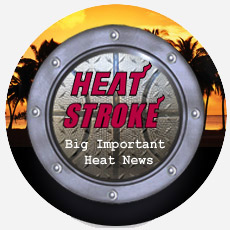 Posted by Royce Young
What do you think will happen when
LeBron James
enters Quicken Loans Arena Thursday night? What do you think will happen when his name is announced during introductions. What do you think will happen the first time he touches the ball?
Boo. BOO. BOOOOOOOOOOOOOOOOOOOOOOOOOOOOOOOOOO
OO. BOOOOOOOOOOOOOOOOOOOOOOOOOOOOOOOOOO
OOOOOOO!
Something like that.
But there's a movement that has a different idea. And if you ask me, a better one. Don't boo. Laugh. Instead of the universal sound for audience disapproval, confuse the heck out him with some chuckles, giggles and loud HA-HAs, Nelson-style.
It comes from the Twitter account @LaughAtLeBron.
The idea, is this: "Let's flip the script on LeBron people. He's expecting crowds booing him. Why? We all need to LAUGH at him. Dec. 2nd." Sounds innovative, if you ask me.
Right now, the group has almost 400 followers, which surely isn't enough to sway an entire arena that's ready to boo their heads off to laugh instead. People have been waiting months to take their seat Dec. 2 and unleash the loudest, meanest, most devastating chorus of boos known to history. And LeBron is ready for it. He knows it's coming. That's why laughing could throw him.
Heck, why not take it even further? Why not REALLY confuse him and applaud him? Cheer him, even. Chant his name. Well, let's not kid ourselves here. The laughing thing is a pretty big longshot. I think it's more likely for my dog to walk over, shake my hand and say, "Hello Royce" in a funny British accent than for Cavs fans to cheer LeBron.
But honestly, with the way the
Heat
are playing, it really might not be that hard to laugh at them. It almost might even come naturally.