The New Jersey Nets have struck a sponsorship deal with Zippo lighters. Posted by Ben Golliver.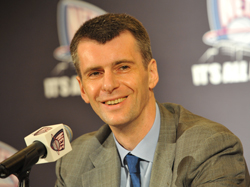 Hey, New Jersey Nets fans! If
Travis Outlaw
's attempts to play defense or
Terrence Williams
' inability to show up for practice on time have ever driven you to the mezzanine for a smoke break, I have some good news for you. Nets owner Mikhail Prokhorov now has you halfway covered, thanks to a new sponsorship deal between the team and Zippo lighters.
The New York Times reports
that the Nets' new deal with Zippo is aimed at NBA fans both at home and abroad.
The Nets and Zippo will announce a sponsorship that includes court-side advertising. The one-year deal is believed to be worth "low six figures," according to an industry source. The sponsorship will also include advertising on local radio broadcasts and ads on the Nets' English and Russian-language Web sites.
Zippo would love to sell a few more lighters in New Jersey, of course, but they are really interested in reaching hard-smoking fans in Russia. Thanks to the Nets' new owner, Mikhail Prokhorov, more Nets games are being broadcast in Russia. That gives American companies a chance to reach Russian consumers without having to advertise in Russia, where cigarette smoking is far more widespread.
To complete the in-game experience, the Nets will begin shooting packs of Marlboro lights into the stands out of bazooka guns and will encourage the team's cheerleaders to twirl giant cigars during their timeout routines. Only kidding, of course, but this feels like it has slippery slope potential for an international man of mystery like Prokhorov, who has proven to be no stranger to bending the rules. Courtside signs for lighters today, Stoli vodka keg stands for the kids tomorrow.