Former Cleveland Indians star Albert Belle offers advice to former Cleveland Cavaliers and current Miami Heat star LeBron James. Posted by Ben Golliver.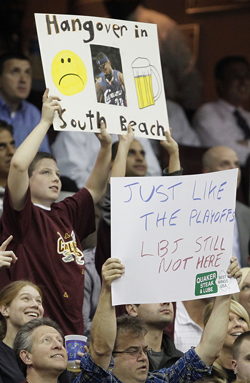 In his return trip to Cleveland, Miami Heat forward and former Cavaliers franchise player LeBron James
may be lacking common sense and grace
, but there's one thing he has in abundance: advice. First, it was infamous anti-hero Reggie Miller
chiming in Tuesday night
, telling James to embrace the hate. Next up to offer unsolicited advice that James will surely ignore is former Cleveland Indians slugger Albert Belle, who faced a similar predicament when he took the money and ran to the rival Chicago White Sox in 1997.
The Cleveland Plain Dealer reports
that Belle advises James to take the high road on Thursday night, when the Heat make their first appearance in Quicken Loans Arena.
"My advice to LeBron is to take the high road and act professional," said Belle. "I hope the fans do the same. I don't want them to embarrass themselves on TV. I'd like to see everybody hug and kiss before the game and then the fans can boo the heck out of LeBron during the game."
Belle also told the paper that he didn't approve of The Decision, a television special in which James broke the news he was "taking his talents to South Beach" to team up with Dwyane Wade and Chris Bosh.
"He still should have had the courtesy and professionalism to call [Cavaliers owner] Dan Gilbert and say, 'I'm doing this show and I'm going to Miami.' When I signed with Chicago, I had my agent [Arn Tellum] call John Hart to see if the Indians would match it because I wanted to stay. John Hart said 'bull ... you don't have that kind of offer on the table.' My agent got mad and said, 'We'll be signing with Chicago tomorrow.'"
One of life's golden rules: when Albert Belle,
who once threw a baseball at a photographer and flipped off Indians fans
, has to publicly advise you to act professionally, it's time for an intervention.