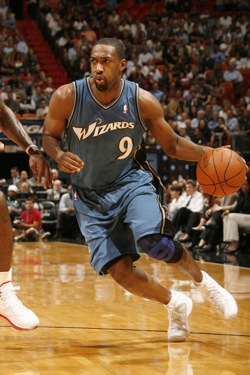 Posted by Royce Young
At some point,
Gilbert Arenas
has to move on from Washington. There's just no way the
Wizards
are willing to jeopardize
John Wall
's development by stunting his growth with Arenas playing alongside him.
But with Arenas' massive contract and the baggage that comes with him, he's going to be tough to move. Doesn't mean the Wizards aren't probably trying though. And despite the problems with him, Gilbert Arenas is still a really, really talented basketball player. So there's absolutely a market for him.
One team that's reportedly interested is the Orlando
Magic
, a club that's desperately in search of a reliable scoring option to play with
Dwight Howard
. The Magic have already apparently made everyone available on the team sans Howard and now, they could be getting proactive.
The Orlando Pinstriped Post, a very reliable blog, reports that the Wizards and Magic have
discussed a deal that would send Arenas to Orlando.
Also involved could potentially be
Andray Blatche
,
Vince Carter
,
Rashard Lewis
and rookie
Daniel Orton
. From the report:
Both teams have a mutual understanding of what the trade might include, the source says, and it's unclear what factors are holding up the trade. What is clear around the league, however, is that Magic President of Basketball Operations Otis Smith has his eye on Arenas. If Orlando is to make a major trade this season, Arenas will likely be the target.

As noted in the report,
CBS Sports' Ken Berger reported
the Magic listened to offers for Arenas this summer, but said no to the Wizards due to concern over the salary remaining on his contract, which runs for three seasons after this one, at a total cost of $62.4 million. In early November,
ESPN.com reported
"the Magic have cooled on the notion of a Vince Carter-for-Arenas exchange," citing "NBA front-office sources." However, the source who spoke to Orlando Pinstriped Post contradicts Stein's report, saying Orlando has indeed initiated the discussions with Washington of late. So who knows.
An interesting deal, especially if Blatche were involved, considering the Wizards just locked him up to be part of their future. But swapping Carter for Arenas makes sense because it gives the Magic the scorer they want and with Carter's deal being up soon, the Wizards have a nice contract to come off the books in the near future, plus can hand the reins of the team completely over to Wall.
With the Magic playing so well early on, they might hesitate. But they had an identical record at this point last season and were missing a scorer that they had in
Hedo Turkoglu
when they made their Finals run. So Otis Smith might be encouraged to get something done this time around. And by the sounds of it, it could involve Arenas.