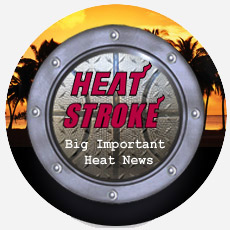 Posted by Royce Young
I think one of the biggest things people are wondering about LeBron's return to Cleveland isn't just about how he'll handle it or how the fans will react. People are curious if anything will happen. Not like something cool or something great.
Like will something
happen
.
Well, there are odds for such an event.
The betting site Bodog has released odds
on if LeBron will get into an altercation Thursday night with a fan. If you're betting on it - which you shouldn't because it's illegal, remember? - the odds are 30/1 that LeBron gets in a fight with a Cavs fan.
The other thing folks have been wondering is if LeBron will do the powder toss. He's already said he would, but Bodog still has 1/50 odds on it. So if you want to plop down 50
Bucks
, you can make a dollar!
As for the fight odds, I say it's a longshot. I just can't see it happening. Security is going to be ridiculously high and tuned in, plus I don't think anyone will cross
that
line. Throw things, say things, spit things? Yeah, I can see that. But jump out on to the floor and try and tackle LeBron? In the history of stupid things, that one would be ranked pretty high.
But if those two bets are a little too out there for your taste, you can go with the more common things like. The over/under on points James scores is 26.5, the over/under on assists is 7.5 and on rebounds it is 7.