As the Heat get set to visit Cleveland Thursday night, and the NBA world turns its eyes on a hurt and angry fanbase, we look at the very real dangers and complicated emotions at work as LeBron James returns to the place he once called home.
Posted by Matt Moore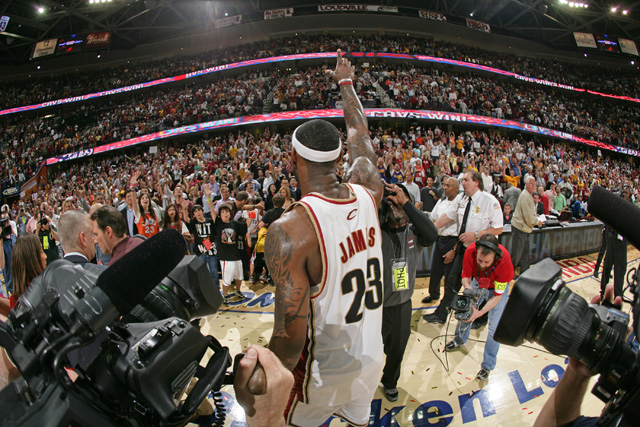 "Thy Kingdom come, Thy Will be done..."
And lo, what a Kingdom LeBron hath made.
Thursday night, as you may have heard from
a few hundred thousand places
, LeBron James returns to a very different Cleveland than he left five months ago. Awaiting him tomorrow night will likely be the most hostile crowd in modern NBA history, and that includes the crowd that engaged in a fist fight with
Ron Artest
amid the stands in Detroit. The Malice in the Palace was a spur of the moment debacle from a heated rivalry. This is an explosive situation that's been under pressure for an entire calendar season with everything from recession stress to the very personal nature of sports fandom, and how it relates to the city of Cleveland slowly raising the temperature higher. The situation James faces tomorrow night is all together more intense and deeply rooted, and considerably more dangerous than any we've seen since free agency began.
There may have been more disgusting outbursts at games in the league's infancy, given the racist overtones that have marked our country and with basketball having been so closely tied with the African American community since its own inception into our culture. But what LeBron meant to Cleveland, and what he means now, has helped to create a powder keg which is complicated by the current economic climate, a half-century old legacy of sports failure for a town whose culture is drenched in sports revelry, and moral values inherent in the middle of our nation. "You just don't do what LeBron did, and you certainly don't do it how he did it," is the prevailing wisdom in Cleveland.
Whether you agree with what James did, or how he did it, or not, the situation remains. Cleveland fans need to vent, to express their disappointment, hurt, and feeling of betrayal. They need closure, but don't feel like they can have it while the party goes on in South Beach, even if it's turned kind of lame and no one knows why Jamiroquai showed up and is DJ'ing. They really feel like they
need
this. And maybe they do. The real problem here has been the NBA's compliance with making what is already a looming debacle into something altogether worse.
The league could have done their best to maintain damage control on this. They could have scheduled it for a run-of-the-mill Tuesday night early game in January, or even February. Let things go for a while longer, to defuse, and certainly not put it on TNT. As it stands, the NBA has given the world front row seats and put Cleveland on stage, leaning back and saying "So, Cleveland? What have you got?" This situation was going to be volatile no matter where or when it occurred. But it did not have to be promoted, adding more fuel to the fire.
Why is this important? Because for
every plea for reasonable behavior
from Ohioans, for every
demand of some level of decency from a proud and decent fanbase
, there is still that concern. Clevelanders aren't denying the possibility of the unspeakable occurring, because they know
it is a very real possibility
. It's possible that nothing unfortunate will occur, likely even, given the security measures being deployed by the Cavs and the NBA. But there are any number of other scenarios that could occur. LeBron getting pelted with beer is one of the
less scary
threats. From people rushing the floor to flipping the bus as it tries to leave the arena, to objects which are not soft plastic and liquid being thrown, there is a distinct possibility of something happening Thursday night which could do significant damage on the scale of The Punch or the Malice at the Palace.
Think I'm overreacting? Read the message boards, the comment threads, the Twitter pages. Realize that large groups of people are planning chants which insinuate some of the downright most disgusting rumors this side of a daytime talk show. But really, just get a sense of how much even reasonable Cleveland fans want to see James suffer. They resist their impulses because they are, after all, reasonable people. But many people in attendance will not be. Man of those people will be drinking.
For James, you have to wonder if he's really going to get anything out of this game. He can't feel good about himself in this context. He may not feel bad about himself because of his massive ego, but he almost certainly isn't happy with so many people openly hating him. James has never fed off the boos like Jordan did, like Reggie Miller did, like
Kobe Bryant
does. He isn't naturally dispositioned towards anger. He's drawn to laughter and clowning. Part of him may want to punish Dan Gilbert, but on the other, he's walking into a former home as the most hated man in the state.
All of this gets past the fact that at some level, LeBron James is probably a little scared to go to work tomorrow. It's unfortunate, but it is what it is. No one should have to be scared for their safety to go to work, but there's also no heroism in what James is doing. He created this mess and now he has to live with it. Playing under those circumstances may prove to be more than he can handle, and the Heat aren't playing well to begin with.
As for the game itself? Miami should roll.
Mo Williams
is better than
Carlos Arroyo
, but it's not leagues.
J.J. Hickson
is better than Bosh in muscle but not skill.
Dwyane Wade
and LeBron James are obviously superior to their counterparts and neither team has a legitimate center. That said, that hasn't stopped the Heat from playing terribly at times, nor from Cleveland playing better than expected. And if ever there was an opportunity for an emotional lift, the Cavs may have it. A win would endear this team to the city like no playoff appearance or All-Star birth could. This is all they want, to see the once and never King broken on their home floor, with their venom raining down upon him.
This is Dan Gilbert, fanning the flames and playing the victim while he himself is partially responsible and continues to get rich off the misery.
This is a Heat team wholly unprepared for the vitriol they have inspired the world over, and especially in a quiet Midwestern city.
This is a group of professionals for the
Cavaliers
who just happen to be caught in the crossfire.
This is a superstar who could have been the next great nexus of talent, fame, and popularity.
This is a fanbase torn and driven to extremes, rising up not as one, but as a stadium full of individuals venting their very personal rage to their former idol.
This is LeBron's Kingdom of Ruin. Long it may reign.
For more coverage of Thursday night's Cavaliers versus Heat game:
Ken Berger is on the scene describing the mood as the stage is set.
Gregg Doyel doesn't want Cleveland to give the world the satisfaction by acting out of character.
Berger also breaks down the tampering charges being pursued by Cavaliers owner Dan Gilbert, and we try to put them into context.
Zydrunas Ilguaskas is pleading for the fans to keep perspective.
YouReact with tomorrow's headlines
for the game.
More links in today's Shootaround.
Video of LeBron James being booed as he takes the court.
Video of LeBron James being booed during introductions.
Video of LeBron James tossing the chalk.