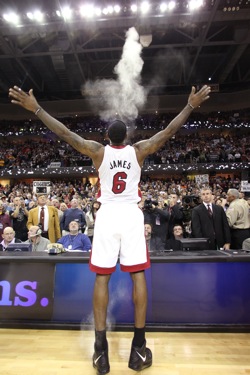 Posted by Royce Young
The sold-out house at Quicken Loans Arena wanted to be loud. They wanted to be heard. They wanted to be involved.
But the Miami
Heat
just wouldn't let them. Most notably, the guy they were "welcoming" back,
LeBron James
who finished with 38 points on 15-25 shooting, plus eight assists and five rebounds. And that was really in just about three quarters of work.
LeBron had a look in his eye from the beginning, hitting his opening jumper. He was more aggressive than we've seen this season, tying his season-high in attempts. But he had a point to prove and I think you could said it was proven. He took the best shot from the rabid Cleveland crowd and responded with his best game of the season. And his team might have notched its best win too.
Reality kind of set in mid-way through the second quarter. The Heat has extended a lead to double-digits and really appeared to be head and shoulders above the Cavs in every way. The boos got weaker and weaker, eventually almost becoming a murmur by the end of the first half as Miami took a 59-40 lead into the break.
And the lead kept growing and growing and growing, eventually topping out at 38. The Heat just overwhelmed the Cavs. It was like the Cleveland scorers couldn't breathe and even when they had a shot, they missed and missed badly. As a team, the Cavs shot just 35.5 percent. Of the starting five,
J.J. Hickson
and
Jawad Williams
were the top scorers, both putting in a measely six points. The starting five combined scored just 23 points. That's not very good.
I know some are going to get excited about this win for the Heat because of the hype surrounding the game, but let's face it - the Cavs aren't anything more than a mediocre team. And that's exactly what the Heat have been feasting on this season.
But to walk into the lion's den that was The Q and dominate, it has to be seen as a statement. The Heat were locked in on both ends and really showcased how terrifying they can be when everything is operational.
Chris Bosh
had a quiet 15 points,
Dwyane Wade
added 22,
James Jones
put in 18 on 5-7 shooting from 3 and of course LeBron had the 38. The team rallied around LeBron. They fought for each other and for once, really looked like a completely functional unit working together on the floor.
The Heat beating the Cavs isn't the story. LeBron's big return is. But hidden under all of the hoopla surrounding LeBron and Cleveland is that the Heat may be starting to find themselves. And ironically, maybe the Cavs kind of helped them do it.