LeBron James and the Miami Heat dominated the Cleveland Cavaliers at the Q, but they're still on the outside of the title race looking in. Posted by Ben Golliver.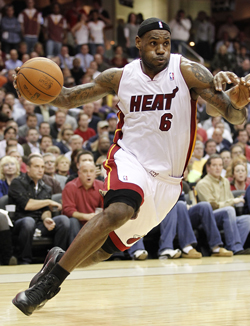 LeBron James accomplished everything he could have possibly hoped to on Thursday night, swooping in with his Miami Heat teammates and dominating a pitiful Cleveland Cavaliers squad decimated by his departure. Everything, that is, except one minor detail: make progress towards an NBA title.
Yes, the Heat manhandled the Cavaliers , 118-90, amidst a hostile anti-LeBron atmosphere , taking all the boos, jeers, shirts and signs in stride and playing some of their most electric basketball in recent memory. James put on a show, especially during the third quarter, hitting shots in every way imaginable. It was a business-like blowout for a Heat team that hasn't had nearly enough of them yet this season and James didn't even need to play during the fourth quarter.
James didn't take his talents to South Beach for a little December revenge that surely felt sweet given all the pre-game hype and expectation. He migrated south to join up with Dwyane Wade and Chris Bosh, and win a title. When James takes a second to think about the entirety of his situation, once he stops throwing up the chalk and talking trash to his former teammates, he will realize the Heat are still just the 5th seed in the Eastern Conference, no better than the sixth or seventh best team in the NBA. They'll be a tough out for somebody in the playoffs, but the virtuoso team performance displayed Thursday night has been noticeably absent during Miami's true tests. Bad teams roll over in their presence; good teams shut them down.
When your opponent's first two possessions are an unforced turnover by Mo Williams and a panic timeout by Mo Williams, you should win by 28 points. But the Rajon Rondos, Jameer Nelsons and Derrick Roses of the world not only know how to run an offense without melting down, they also have talented teammates in spades, deep, big rosters that will press Miami's paper-thin and Charmin-soft frontline past its breaking point. Boston, Orlando and Chicago have accountable and active defenses that won't be content to allow James unhindered access to the paint and that will hustle back to harass the passing lanes in transition. It's not supposed to come as easy as it did for Miami on Thursday night and, for the most part, it hasn't.
James now has the "return to Cleveland" monkey off of his back, but the 800 pound gorilla – that his hand-picked group of teammates still isn't good enough to dethrone the Boston Celtics, and will struggle with the East's other elite teams – still haunts him, and will continue to haunt him through next summer, at the very least.
There were no violence and no major incidents as feared at The Q, and for that we should all be thankful, pausing for a moment to thank Cavaliers fans. While it was a peaceful cakewalk in Cleveland on Thursday evening, when James comes back to Earth after his 38-point, 5-rebound, 8-assist performance he will find himself in familiar surroundings: out of contention for an NBA title.