Posted by Royce Young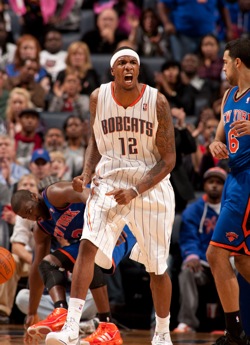 Remember how everyone jumped all over the Free
Kevin Love
bandwagon? Remember how outraged people were when they'd look at a box score and see 24 minutes next to Love name, along with 19 points, 14 rebounds? Remember how when he got his chance at consistent playing time, he joined a list that had Moses Malone on it with a 31-point, 31-rebound performance?
Well, where's the outrage for
Tyrus Thomas
?
The Charlotte
Bobcats
forward is averaging just 21.3 minutes a night, yet putting up career-best numbers in points per game, field goal percentage and free throw percentage. His blocks and rebounds are just
barely
off his career-highs. And yet, Larry Brown continues to give Thomas erratic playing time, despite the fact that the pillowy
Boris Diaw
and
Nazr Mohammed
are the Bobcats starting frontcourt.
Actually, this might make even less sense than sitting Kevin Love.
So of course if Thomas is sitting, it must be defense, right? Brown coaches defense and that's what the Bobcats do so well.
But Brett Hainline of Queen City Hoops had a great look at it:
If it is defense that is forcing Larry's hand – my numbers can't find it. With Tyrus on the court this year, the Bobcats have allowed an efficiency of 104.0 and it goes to 106.5 with him off the court. Looks solid for him. Ok – how about individually? Tyrus is among the team leader's in slowing down his opponent, allowing 1.8 fewer points per 100 possessions to his man than expected. Nazr and Derrick Brown bring up the rear on this at 6.7 and 5.1 more per 100, and Kwame is only slightly in front of Tyrus at -2.4. For allowed PER, Tyrus has surrendered a PER of 1.2 points below expected, with Nazr at 6.75 above, Derrick at 5.19 above and Kwame at 0.59 below.

The most minutes Thomas has seen this season is 34. His numbers that night: 26 points, 11 rebounds, three assists and four blocks. In games where Thomas has seen over 25 minutes (four games), he's averaging 22.5 ppg, 8.3 rpg and 2.0 bpg. Thomas has a PER of 23.56, which ranks him 11th in the
entire
league. And third among power forwards.
Yet he's only getting 22 minutes a game and on some nights, as low as 14? How in the world does this make any sense for a team that's 6-12 and is desperately looking for an offense spark anywhere it can find it?
Thomas is only 24 years old and could realistically be a centerpiece in Charlotte's future. His game is still raw, but clearly he's developing. Despite seeing the most erratic playing time of his career, he's producing his best season yet.
Larry Brown is considered one of the great coaches in the NBA, but this almost just seems like some kind of power play with Thomas. It's like Brown has his rotation set and that's what he's going with. He will not be persuaded by some young player that's putting up a nice season. Boris Diaw and his doughy body must play!
For comparison's sake, Diaw is getting 35.6 minutes a game and averaging 12.6 points and 4.8 rebounds a night. So it's not like Diaw is simply playing so awesome that Thomas can't find the floor. Again, Charlotte's interior is made up of Diaw, Mohammed, Derrick Brown,
DeSagana Diop
and
Kwame Brown
. How is Tyrus Thomas having trouble finding the floor with that group around him?
And it's not like the Bobcats are an especially exciting team either. Nobody on that roster really fires up the fanbase. I don't think anyone is flooding the gates to see
Eduardo Najera
take a charge. Thomas, along with
Gerald Wallace
, are the two most athletic, talented and exciting players on the team. If anything else, people might enjoy watching Thomas swat a few shots or dunk over someone. Forget the fact that he's playing the best basketball of his young career. He's at least something to watch!
It's one thing when you're winning. It's another when you're losing and not playing your most talented players. Maybe Thomas is in Brown's doghouse for some reason. Maybe this is some kind of player development tactic. Or maybe it's just stupidity.