Bulls
, hammered by
Celtics
in second half, may have to realize they're not quite elite yet.
Posted by Matt Moore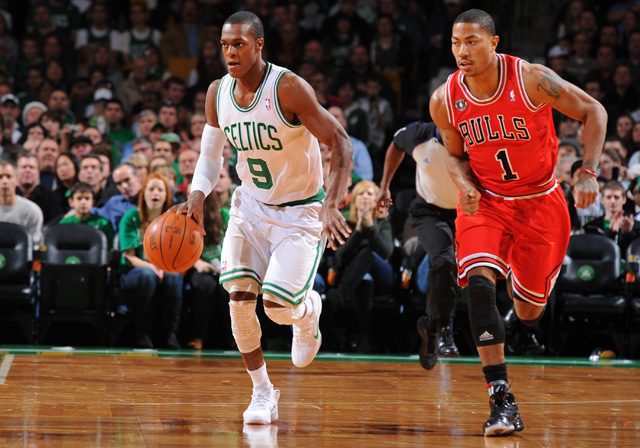 Instead of following up with caveats, let's start off with reasons why tonight's blowout of the Celtics over the Bulls should not be overly concerning for Bulls fans:
This was Carlos Boozer's second game back from injury, his second game this season, his second game with the Bulls. So a 12-points-on-10-shots, 2 rebounds, 2 turnover night from him isn't the end of the world, and a better performance from him would have gone a long way to closing the gap.
It's still really early.
This was on the road against a rabid Friday night crowd in Boston who wanted this win against a team that very much seems like a rival to them.
Seriously. Really early, still.
With that out of the way and most Bulls fans probably on their way, we can continue. It wasn't necessarily the fact that Boston handled the Bulls so well, it was that it was hard to see where the Bulls could possibly find matchup advantages should these two teams resume their rivalry in the playoffs this spring. It was also hard to see what this team's blueprint is for reaching "elite" status. Because as currently constructed, even at their peak, they're simply not.
This isn't to say they're not very good. They are. They could find themselves as high as the third seed in the East should things go their way. But the opening tip was a pretty big omen of how this one was going to go. The Celtics pushed the ball to
Kevin Garnett
, he worked over Carlos Boozer in the post, and drained a hook over him. From there, it was off to the races.
Thing is, this game actually was close for the first half. Here's the first half game flow courtesy of
GameTracker
.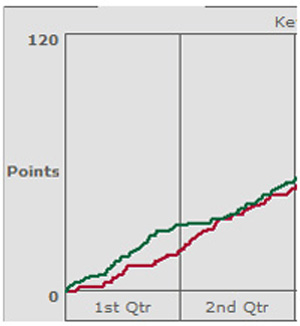 Pretty close, right? Here's the second half: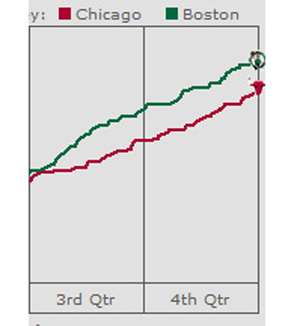 So close... and then, not so much. The second half was an absolute blitzkrieg from Boston, who responded with abject fury once they got rolling. The bench for Boston wasn't much, but they didn't need to be with the starters all landing in double digits.
Rajon Rondo
had another absolutely ridiculous night with 19 assists and Kevin Garnett dominated both Boozer and
Taj Gibson
.
The Bulls were relying on their frontcourt to be more versatile this year. After all, the Bulls opted to push for Boozer instead of
Amar'e Stoudemire
(who dropped 34 on the
Hornets
tonight). The Bulls will likely play to a draw with Rondo, and lost at the small guard position with
Ray Allen
dropping in his threes. They'll have a hard time at the small forward position with
Luol Deng
being reliant on whether his jumper is wet, but they absolutely must have production from Boozer and Noah. As good as
Joakim Noah
is, he gets absolutely swalled up by Boston's revamped frontcourt with
Shaquille O'Neal
, and then having Garnett (who was injured for their 2009 playoff series when Noah shined) switch to him when the big fella is out. With Boozer and Noah both ineffective, the Celtics racked up 56 points in the paint to the Bulls' 40.
The Bulls are a better team than they were last year at this time. Their performance on the Circus Road Trip shows that. And
Derrick Rose
is a phenomenal talent when it comes to getting to the rim for floaters and drive-and-kick assists. But the Bulls were hopeful of being an Eastern Conference contender coming into this season. From how they've done against playoff teams in the East this year (a combined 0-4 against Boston, Orlando, and New York), they seem to be miles away, with little room to target improvements.
The Bulls very much are still a work in progress.