Reports indicate league considering acquiring control of Hornets in effort to stabilize ownership situation as word spreads that new majority owner has cold feet.
Posted by Matt Moore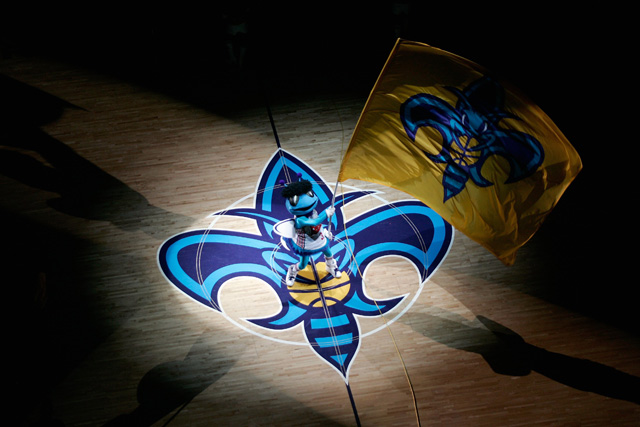 The sale of the New Orleans Hornets has gone from interesting to strange to bizarre, to downright berserk.
First, George Shinn had "come to terms" with Gary Chouest to sell the Hornets, ending a reign of anxiety for Hornets fans as the man who ripped the Hornets out of Charlotte (which still has not recovered) would be replaced with a local guy that could bring new life to the franchise. Then the months dragged on. And on. And there were rumblings that the sale was held up with details. Some rumors suggested that the holdups were non-issues.
Then earlier this week the
Times Picayune
reported
that the city was facing the possibility
of the Hornets being able to opt-out of their lease if attendance measures weren't raised. For the Hornets to have looked like they have (up until about six games ago) and still not be pulling is a huge concern.
That is, it was until bigger concerns hit.
Reports surfaced Friday night
that the NBA is considering purchasing the New Orleans Hornets, in an effort similar to Major League Baseball's acquisition of the Montreal Expos to find them a stable ownership group. It is believed that the league intends to find an ownership group committed to keeping the Hornets in New Orleans, even with the opt-out possibly becoming available soon. Originally it was believed the effort could be considered in an effort to help the sale to Chouest.
That's not sounding so promising anymore.
Late Friday the
Times-Picayune
reported the following:
Sources indicated Friday night that Chouest does not think he can devote the needed time to run an NBA franchise and operate his private business.
via
New Orleans Hornets could become first franchise owned by the NBA | NOLA.com
.
The loss of Chouest as the next owner throws much of the situation in doubt. Shinn no longer wants to own the team, there's not a new majority owner in place, the league may have to step in, and oh, yeah,
Chris Paul
's been involved in questions about his future in New Orleans since July. It's almost funny to think that it may be the team itself that moves, taking Paul with it, if it weren't for the fact that it would be so depressing for a team that's gone through so much.
Losing the Hornets in New Orleans wouldn't be a crushing blow for the city by any means (as evident by the attendance woes). But the Hornets' fortunes are tied with memories of Hurricane Katrina, of their temporary relocation to Oklahoma City and the rousing welcome they received that led to the
Thunder
shipping there from Seattle, and of the Hornets' resurgence in 2008, the same year the league held the All-Star game in a still-rebuilding New Orleans. It would look bad for the league, particularly as it shores up strength and public approval for CBA talks this summer which are sure to be tooth-and-nail, to have to acquire a team and not have solid ownership in place in such a publicly sensitive city.
It's also a very heavy-handed approach for a league and a commissioner who very much does not usually act in such a manner. David Stern is hard-line and involved when it comes to his players and the control of the league, but hands-off with ownership, wanting them to sort things out on their own. That's why he never formally became involved during the Isiah Thomas era in New York, and, despite what many Sonics fans feel, there was no evidence that Stern condoned or supported Clay Bennett's move to Oklahoma City. This approach would mean a significant financial investment from the league, and sets a dangerous precedent, considering how often NBA teams are switching hands these days. With ownership situations in Memphis, Detroit, and potentially Milwaukee, Sacramento, and eventually Charlotte (come on, it's MJ), the league could be putting itself in a dangerous position with other owners wanting a handout-for-a-way-out.
Meanwhile, the Hornets have now lost 5 of their last 7, Chris Paul looks very much like he's not 100%, and
Jarrett Jack
is not the savior off the bench.
What was once a murky situation for the Hornets is quickly becoming a full-blown quagmire for the city, the team, and now the league.