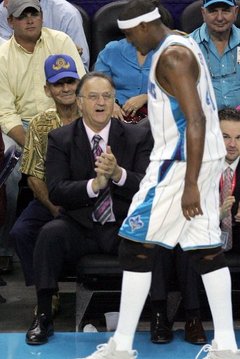 Posted by Royce Young
The
Hornets
are walking down a weird path right now. The franchise may be released from its lease with New Orleans Arena because of attendence issues. But on top of that,
reports are that the NBA is very close to purchasing the team
after apparent buyer Gary Chouest backed off from purchasing the franchise from George Shinn.
For months, it was believed Chouest would purchase the team. But he unexpectedly backed off leaving people to wonder why.
And according to the Times-Picayune,
it has a lot to do with the NBA's uncertain state surrounding a potential lockout.
On top of that, the report says Chouest doesn't feel like he has the time available to run an NBA franchise as the sole owner while still operating a very successful private business. Chouest is a billionaire that made his dollars from a global marine service company called Edison Chouest Offshore, but was hit hard by the moratorium on deepwater drilling in the Gulf of Mexico after the BP oil spill.
Reportedly, Chouest was set to purchase the team from Shinn for around $300 million. Currently, he owns a 35 percent stake in the team. Last April, Shinn, who was diagnosed with cancer about a year ago, reached an agreement in principle to sell his majority share of the team to Chouest. But no official deal ever came out, indicating that there was some kind of hang up.
And what that probably is includes the uncertainty surrounding the team's lease, the potential work stoppage,
Chris Paul
's potential desire to leave and whether or not the franchise actually can be profitable in New Orleans.
Add all of those things up and it's understandable how someone might balk at buying the team. The future of professional basketball could be in jeopardy right now, and it could be the NBA's own situation that is helping cause it. A lockout will hurt players and owners, but it could devastate a franchise as fragile as the Hornets.