Posted by Royce Young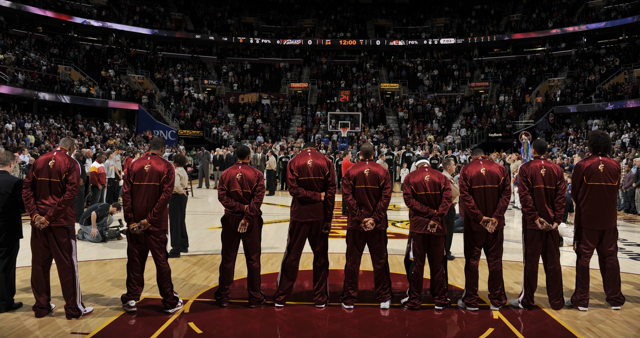 Leading up to
LeBron James
' return, the talk in Cleveland was all about how a player quit on his city. How he betrayed them. How he was a traitor. Cavalier fans brought signs to let him know. They chanted it at him. They yelled it at him. They wanted LeBron to know that he quit on them.
Well, they might want to give the
current
team the same treatment when the Cavs return home Dec. 18.
Following a 28-point drubbing by LeBron's
Heat
where the Cavs trailed by as much as 38 and pretty much let down a city ready to rally behind them, the Cavs went on the road to play the 4-15
Timberwolves
. Not necessarily a sure thing win by any means, but a game you'd expect the Cavs to bounce back in. I mean, they had to still be stinging after the beating they took at the hands of the Heat and ready to rinse that blood off their hands.
Instead, the Wolves beat down the Cavs by 34, possibly sending the franchise to maybe its lowest point ever. Think about it - LeBron returns and instead of being intimidated by the animosity thrown at him, he drops a cold-blooded 38 points and leads his new team to a blowout win. Ouch. And when the Cavs take the floor the next time, they don't even come close to competing. After one quarter, Cleveland trailed by 13 and it just got worse and worse and worse, eventually snowballing into their worst loss of the season.
Following the game, coach Byron Scott was pretty honest and candid with reporters. "We played like the word that starts with an s and ends with a t," he said. "To me we're playing like the worst basketball team in the NBA right now.''
Hard to argue, really.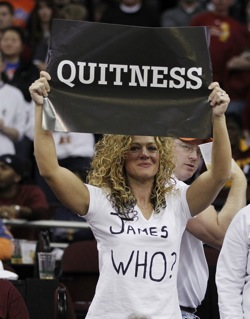 LeBron blew the Cavs out twice. Once in Cleveland and then again against the Wolves. Whether it was because the team didn't have any fight in them and backed down or because there was some sort of emotional hill they couldn't get over, the fact is, these two losses look pretty bad.
(An aside here though: Props to the Wolves. They set a new franchise record with 18 3-pointers and shot nearly 70 percent from deep. Kevin Love was 5-5 from 3,
Wesley Johnson
3-4 and
Wayne Ellington
4-6. This of course wouldn't have been possible without the soft Cleveland defense, but the Wolves still had to make the shots, which they did at a ridiculous rate.)
You can almost - I said almost - excuse the loss to the Heat. A superior team with superior talent that was absolutely ready to annihilate the Cavs to stand up for their guy. But taking an absolute beating from the
Wolves?
I don't know where you come up with an excuse for that. The only explanation really is that the team stinks, the players didn't play with any heart and basically, they packed it in pretty much after the opening tip.
There's still plenty of time to bounce back for these guys though. The Cavs are 7-12 and have 63 games left to re-inspire themselves and act like they're playing for something. But what was supposed to bring them together and give them something to feed off of in LeBron's return has had the opposite effect. They crumbled faster than Rich Rodriguez at a Josh Groban concert. Instead of rallying with a city and adhering by the "All For One" motto they go by, the Cavs just didn't respond. Again, the season is still young and Byron Scott is a good motivator. But these past few days are some of the darkest in the franchises history, no doubt.
The Cavs play their next two on the road with a game at Detroit Sunday night. All of a sudden, that matchup has become extremely important for a lot of reasons that have nothing to do with the standings. Cleveland needs to bounce back and do it now. The team, the fans, the city, the franchise can't afford to continue to sink down into this hole. There's no time to pout. There's no time to think about LeBron.
The city is still feeling the sting from the whipping Heat administered and there's real potential here to do lasting damage to the fanbase if the team doesn't show some heart and guts from here on out. Cleveland fans have shown they're willing to fight for this team. But they haven't seen anything similar from the team. No doubt there isn't a ton of talent on the roster anymore, but that doesn't mean the Wolves are 34 points better than you.
When LeBron left, a lot almost felt like professional basketball in Cleveland followed him. The depression caused by The Decision was so heavy that there was a fear that the fanbase might feel so jilted that they gave up. But they didn't. They rallied behind their guys, showed up in force and were ready for vengeance when LeBron returned. Except their guys
completely
let them down. And then to follow that up with the embarrassment that was Friday night in Minnesota, well, how do you explain that to your fans?
Maybe it was all the hoopla surrounding LeBron's return. Maybe the team was distracted by all the outside noise and was over-focused and over-hyped for the game against the Heat and it carried over to Saturday's game in Minnesota. Or maybe these guys have followed their leader from last season and pretty much just quit on the city. They absolutely have time to redeem themselves, but hopefully it's not already too late.