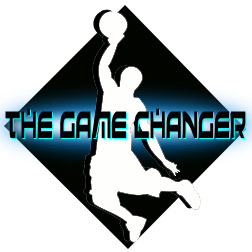 Blake Griffin is a game changer, a fight in Portland, big nights for a familiar pair in two different cities, and a lot of questions circling in New Orleans about the future of the Hornets. Posted by Ben Golliver.
Each game is made up of elements which help formulate the outcome. Monday through Friday, we'll bring you the elements from the night before's games in our own specialized version of the game recaps. It's not everything that happened, but it's an insight into what lead to the results you'll see in the box scores. This is
the Game Changer.
THE BIG ONE: BLAKE GRIFFIN IS BEASTING
Normally, when we write in this space about a "game changer," we're talking about a single game. Today, we'll talk Blake Griffin, who is starting to demonstrate on a regular basis that he has the ability to change the entire NBA. Too big, too fast, too bouncy, too agile. He's everything at once, and more. As a rookie, Griffin is averaging 20.6 points and 11.8 assists through the first quarter of the season. He's been coming on as well, putting up 23.6 points, 13 rebounds and 3 assists over the last 11 games. That production hasn't translated to many wins for a young Los Angeles
Clippers
, but there's no question that he's doing his part, throwing down ridiculous dunks, putting on absurd displays of athleticism on a nightly basis and guarding just about anyone his team asks him to, switching out on perimeter players in pick-and-roll situations without a second thought. The pre-game buzz on Sunday in Portland was that there was a potential all star power forward taking the court, and it wasn't
LaMarcus Aldridge
of the Blazers. Griffin indeed dominated the match-up, putting up 21 points, 15 rebounds, two assists, two steals and just one turnover in 40 minutes of play. Most impressively, he got to the free throw line 16 times, fouling out Aldridge in the process (although he struggled to deliver at the stripe). Aldridge finished with four points, five rebounds, one assist, six fouls and just 2-10 shooting, a relative non-factor in his team's ability to finally end their six-game losing streak.
Afterwards, Griffin didn't want to hear any all star potential talk, especially after the loss. "I don't know. No," he said in response to whether he's allowed the thought to enter his mind. "I'd much rather be on a winning team. I've got a lot of work to do before I get to that level." All star or not, Griffin is seeing his game progress after missing all of last season with an injury. "[My game] a lot better. I feel like I'm in a rhythm. Some games are better than others obviously. The key is just to limit those bad games and keep improving at the same." He also said his struggles at the free throw line -- he finished 7-16, and bent over while at the stripe, mad at himself -- are a point of emphasis. "It's frustrating whenever you miss free throws like that. The thing is I know I can make them, I've just got to do it." The Clippers dropped the game, but Griffin was glad to see how his teammates handled a chippy second half (video below), which included a flagrant foul 2 for his teammate
Brian Cook
and numerous technical fouls. "I thought we handled it well. We had guys stick up for our teammates. That's what you like to see. I just think you've got to keep that attitude, you can't let people punk us. I'm not saying that's what Portland was trying to do, but we can't back down from anybody." And really, Blake Griffin backs down from no one, because he's too busy sailing over the top of them.
GO-GO-GADGET LINE OF THE NIGHT:
Let's reunited these two for a night, for old time's sake.
Steve Nash:
20 points, three rebounds, 17 assists, two turnovers on 8-8 shooting in 30 minutes in a home win over the Washington
Wizards
.
Amar'e Stoudemire
: 31 points, 16 rebounds, two assists, one steal, two turnovers on 12-24 shooting in 38 minutes in a road win over the Toronto
Raptors
.
Runner-Up...

Stephen Curry
: 39 points, one rebound, six assists, two steals on 14-20 shooting in 46 minutes in a road loss to the Oklahoma City
Thunder
.
DON'T MISS:
VIDEO CLIP MADNESS:
Here's a video look at the throwdown in Sunday night's game between the Portland Trail Blazers and the Los Angeles Clippers. Clippers big man Brian Cook shoves Blazers center Joel Przybilla out of the air during a dunk attempt at the rim, causing him to come crashing to the ground. A scuffle ensues, with Clippers guard Baron Davis and Nicolas Batum exchanging words and bumps. Przybilla and Clippers big man Craig Smith also went back and forth. Cook was issued a flagrant foul 2 and was immediately ejected. The other four were issued technical fouls.
The scene was very reminiscent of the exchange between the Miami Heat and the Washington Wizards last week, which led to the ejection of Wizards center Hilton Armstrong.
WHIMSY:
The Raptors lost, but new guard Jerryd Bayless, acquired from a trade in New Orleans, is flying in to the rescue, here to provide excitement and hope. Bayless finished with 23 points, seven rebounds, and six assists in 27 minutes off the Raptors bench in a home loss to the New York Knicks.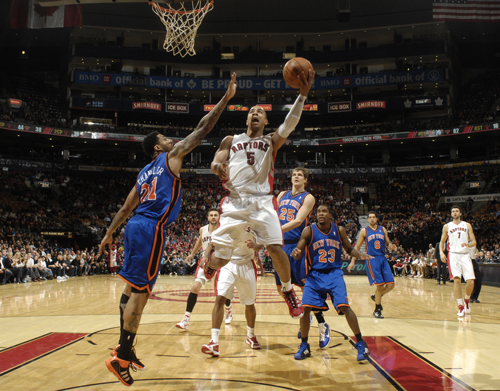 FINAL THOUGHTS:
To add an insult on top of all the questions that are swirling about the franchise's future in New Orleans, the Hornets got trucked by the San Antonio Spurs, 109-84. Brutal day.