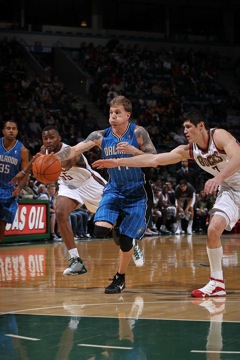 Posted by Royce Young
The
Knicks
have had their eyes set on
Chris Paul
for forever. They even inquired about
Steve Nash
earlier this season. But at the present, they're just hunting a low-dollar point guard.
The New York Times reports
the Knicks are after an inexpensive backup point guard that won't add to next season's payroll. So a cheap, expiring point guard is what the Knicks are interested in. The team is reportedly willing to deal
Bill Walker
, who is making $854,389 this season and $916,100 next season.
Options for the Knicks?
Jason Williams
,
Earl Watson
,
Earl Boykins
and
Ronnie Price
are a few of the point guards out there with an expiring deal. Patrick Beverley who was released by the
Heat
is still searching for a team as well as Acie Law who was just waived by the
Grizzlies
.
However, by the sound of the report, the Knicks are interested in trading, rather than signing. If they were to sign a player like Law or Beverley, they'd have to waive someone. Most likely Walker again, but New York probably feels like a trade could net a better player than Law or Beverley.
The Knicks point guard situation isn't great with
Toney Douglas
backing
Raymond Felton
currently. Douglas is more of a shooting guard and behind him is rookie
Andy Rautins
who most definitely isn't a point guard.
New York wants a legitimate point guard to have on the roster, especially since the team is looking competitive. If Felton were to go down, man, they'd be in trouble. (Speaking of, Felton is quietly having a really nice season. 18.1 ppg and 8.3 apg isn't too shabby.)