Los Angeles Lakers guard Kobe Bryant is being honored by Lower Merion High School, his alma mater, with its gym being named after him. Posted by Ben Golliver.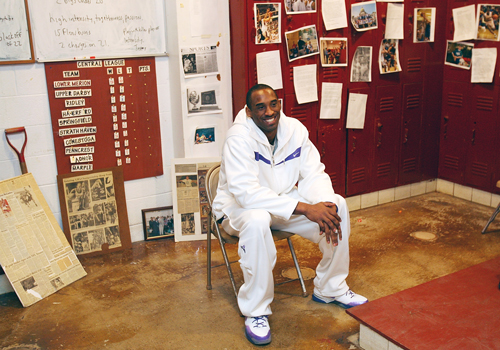 Los Angeles Lakers guard Kobe Bryant is, without question, a basketball nerd. His attention to detail and work ethic are extraordinary, and he's been known as a top-level gym rat ever since he entered the NBA. And what more could a gym rat desire than his high school gym named in his honor? That's exactly what Bryant is set to receive later this month, when Philadelphia-area Lower Merion High School, where Bryant won a state title in 1996 and famously took R & B singer Brandy to prom, will dedicate Kobe Bryant Gynasium. The
Philadelphia Inquirer notes
that Bryant, who jumped straight from high school to the NBA, used an old Ivy League trick, making a sizeable donation to help get his name on the building.
This year, Bryant, the perennial all-star and face of the Los Angeles Lakers, donated $411,000 to the Lower Merion School District. The gift, the largest ever to the district, is to help fund "a series of inspirational, interactive, and educational displays" at the newly completed, $100 million high school.
The school board voted to name the gym after Bryant, citing not just his donation but a history of support for the school, whose Aces basketball team he led to a state championship in 1996.
ESPNLA.com quotes Bryant
, who sounds pretty stoked by the news.
"It's cool for me," Bryant said. "That's obviously where playing in the NBA kind of became a realistic goal. I put a lot of work in, a lot of hours in that gym, with a lot of people that support me and still support me to this day. It will be cool to go back there."
That Bryant is being recognized in this manner while still playing professionally at a championship level makes one wonder what honors will be left for him during his retirement? That's what is known as a good problem to have.