The Miami Heat will receive in-game analysis from ESPN.com's Bill Simmons, better known as "The Sports Guy." Posted by Ben Golliver.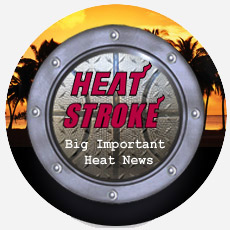 If you weren't already aware that the Boston
Celtics
are clearly superior to the Miami Heat, you will be after Friday. ESPN.com's Bill Simmons, better known as "The Sports Guy" and a passionate fans of all things Boston, is reportedly set to provide in-game analysis during ESPN's telecast of Friday night's game between the Heat and the Golden State
Warriors
, according to
USAToday.com
.
ESPN will formally announce Wednesday that podcaster and writer Bill Simmons will make his debut as an NBA game analyst on Friday's Miami-Golden State game (10:30 p.m. ET), working alongside Dan Shulman and Mark Jackson.
Expect plenty of gloating from the outspoken, forthright Simmons, whose Celtics sit atop the Eastern Conference at 16-4, the second best record in the league. Boston has defeated Miami in both of the meetings between the teams this season.
Simmons has questioned the Heat throughout the offseason, doubting whether LeBron James and Dwyane Wade can play together and wondering whether forward Chris Bosh was a good signing. Last week, he expertly predicted on his podcast that the Cleveland Cavaliers would blow out the Heat, which turned out to be 100%, absolutely, completely wrong.
The timing of Simmons' guest spot should make for some fireworks, as the Heat are riding a five-game winning streak before they face the Jazz in Utah on Wednesday night. Friday's game against the Warriors will be the first half of a back-to-back that close the team's current four-game road trip.