Mavericks excel with more than the starting five, as their win streak reaches ten.
Posted by Matt Moore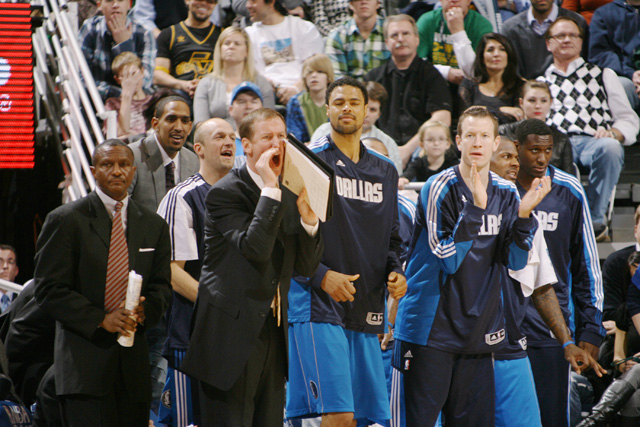 The Mavericks have always been able to gunsling with the best with them this decade. Having a seven-foot Hall of Fame, former MVP legend will do that for you, alongside one of the top point guards of all time and a former sixth man of the year. But as was evident in the Mavericks'
tenth straight win
, it's not just the starters for Dallas that are getting the job done.
After the Mavericks outran the
Jazz
on December 3rd,
Dirk Nowitzki
said
this is the deepest team he's been on
. The numbers are bearing out that this is at least a very good team depth-wise, and not just on the offensive end.
Dallas' bench entered play Tuesday night averaging 33.6 points per game and allowing just 28.7 per game. It's that kind of advantage when your starters come off the floor that leads to starters being able to rest more, and coaches like Rick Carlisle not having to throw starters back out into weird rotations in order to plug leaks as a lead drops or a deficit widens.
Tonight's contributor was
Ian Mahinmi
, who provided his first career double-double against the
Warriors
with 12 points and 10 rebounds to go with 2 steals and one very nasty block. Mahinmi being a viable backup center when
Tyson Chandler
and/or
Brendan Haywood
can't go gives a whole new dimension to the Mavericks, allowing them to play big against opponents. That's something that will be crucial to keep an eye on as the playoffs approach, even if the Mavericks aren't as hot as they are now (and odds are they won't be).
It should be noted that
Jason Terry
is a big reason for the bench points as
DeShawn Stevenson
has been starting in his stead at shooting guard. Still, there's not an absence of production for Dallas off the pine as Mahinmi,
Jose Juan Barea
, and
Shawn Marion
are all capable of putting in solid to great nights if they're feeling on. That's a pretty big set of weapons to account for, and that's part of the reason Dallas has been so unstoppable thus far this season.
Oh, and have we mentioned Rodrigue Beaubois isn't even back in action, yet?
The Mavericks aren't just stocked at each position, they're capable of throwing together combinations to specifically counter what their opponent puts on the floor. With Rick Carlisle at the helm, the team is willing and able to adjust on the fly to problems presented, which is partially responsible for Dallas' remarkable ability to close this season.
When Beaubois returns, the Mavs will feature a stellar four-guard rotation, a solid punch-counterpunch at small forward with
Caron Butler
and Shawn Marion providing contrasting approaches, and a three-headed center system with veterans Haywood and Chandler backed up by young buck Mahinmi. Quite simply, when the Mavericks are healthy, they are not a team you want to run into on a dark and stormy night. And unlike the
Hornets
, this success doesn't seem to be the product of a hot streak.
Get past all that?
You've still got Dirk Nowitzki in effect.
#1 (
for now
) indeed.