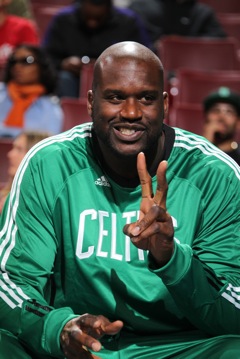 Posted by Royce Young
Shaquille O'Neal
has bounced around quite a bit as his career winds down. From the
Lakers
to the
Heat
to the
Suns
to the Cavs to now with the
Celtics
. Shaq has put a deadline on his NBA career, often counting it down in interviews and on Twitter. Originally, he was going to be done after this season. But he signed a two-year deal with the Celtics to try and make anothe run at a title.
So currently, Shaq's got something like 675 days left. Give or take. Shaq's long said that his future after retiring from the NBA would be in law enforcement, but according to Seref Yalcin, the general manager of the Besiktas (where Allen Iverson is playing), Shaq is planning to play in Turkey after his NBA career ends.
From Ajansspor,
translated
by Hoopnotes:
Seref Yalcin, GM of the Turkish club, said he was in the United States to meet with the center who said to him: "I want to be champion this season with Boston. But I'm coming to Turkey next year."

[...]

"Some people will still come out and said 'Shaq won't come to Turkey'," Yalcin added. "But the chances are very high."
Shaq's two-year contract includes a player option for the 2011-12 season, so he could opt out. People have long believed that Shaq would go get paid big in Europe after his NBA career ends, Shaq even mentioning this past summer he had big dollar offers. So maybe there's some truth to it.
To be clear though, Yalcin didn't say it was for sure. There's no spit-in-the-hand-and-shake deal made here. He just said, "Chances are very high." And honestly, would you really put this past Shaq? I wouldn't, especially if he gets his title in Boston this season and a lockout pops up next summer.
I'm sure Besiktas would pay a hefty price tag to have Allen Iverson and Shaquille O'Neal on the same team. Funny how here, that would be a pretty terrible foundation to a team. But there, they're like the Euro Miami Heat.
Via Celtics Blog